Embarking on Forex trading is an exciting opportunity, but choosing a broker you can trust is crucial. MultiBankFX.com is an excellent option, as they have years of experience and hundreds of thousands of customers.
In this guide, we'll help you understand the basics of MultiBankFX, its features, costs, and the quality of its regulation.
About MultiBankFX.com
MultiBankFX is part of the MultiBank Group, with a focus on being a broker for Forex and contract for differences (CFDs).
Since its start in California in 2005, MultiBankFX now operates in over 25 locations worldwide, supporting more than 300,000 customers across 90+ countries.
MultiBankFX prides itself in being an authoritative figure in the foreign exchange industry. Much of this has to do with the company having more than $322 million in paid-up capital. As a result, they're one of the world's biggest online financial derivatives companies.
They also trade according to the Non-Dealing Desk (NDD), meaning that they provide their customers access to unfiltered interbank market exchange rates without sparking a conflict of interest.
Furthermore, their policies on zero-commission trading, protecting negative balances, and offering nano-second trades make them an excellent choice for people wanting to trade with Forex and CFDs.
Top Features of MultiBankFX.com
By using MultiBankFX as your broker for CFD Forex trading, you'll gain access to more than 55 currency pairs. They all have tight spreads, which can make the difference between profiting or losing from a trade.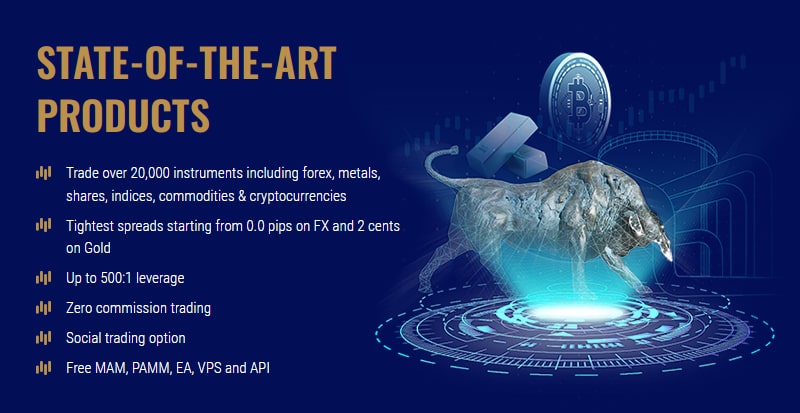 Below are some of the most outstanding features of MultiBankFX.com.
Demo Account
Starting to trade currency pairs on Forex using MultiBankFX is an exciting and nerve-wracking experience. Although we can't guarantee you'll end in the green once you begin trading, you can reduce the risk by practicing with a demo account.
The demo account is beneficial because you'll get a feel for how Forex works and practice completing some trades without worrying about losing money.
1:500 Leverage
If you're new to trading and don't have much money to start with, using MultiBankFX's massive leverage allowance could help you build your profit faster.
The idea behind leverage is borrowing money that isn't yours. The leveraged amount will accompany a designated amount of cash that you place in a trade. If the transaction ends in the positive, your broker will give you the profit after subtracting their leverage fees.
While leverage can be a powerful tool when trading currencies on Forex, it's crucial to proceed with caution. Should the trade end up going poorly, you could owe a jaw-dropping amount of money.
Over 55 Currency Pairs
Having access to various currency pairs is crucial for anyone embarking on currency trading. So, you can have peace of mind knowing that by using MultiBankFX, you'll have a range of currency pairs to trade with that fall under the following categories:
Trade From Anywhere
Gone are the days when you need to rely on phone calls, emails, or the skillset of a broker who might not have your best interest at heart to execute a trade.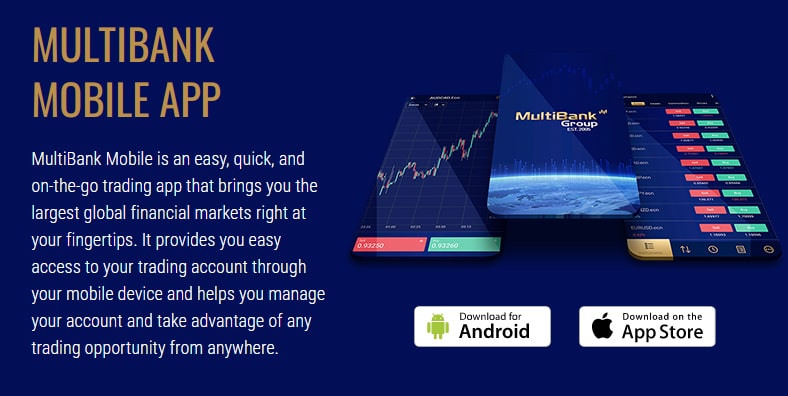 Instead, MultiBankFX offers simple online currency trading. That means you'll be able to use MultiBankFX.com as long as you have an internet connection.
Tight or No Spreads
Pip is the term to describe the smallest price movement between two currencies. When trading currencies on Forex, every fraction of a coin counts. That's why MultiBankFX offers all plans with a tight or no spread, with pips ranging from 1.5 to zero.
As a result, you'll be able to exit trades faster at a potentially greater profit. But, of course, such small spreads can also mean losing your money quickly if you don't take appropriate cautions.
Other Asset Choices
Although MultiBankFX focuses on trading Forex and CFDs, because they're part of the MultiBank Group, you'll have the choice to trade many other assets with ease.
Examples include:
Social Trading
Regardless of the MultiBankFX plan you choose, you'll be able to join their unique social networking platform. Doing so will allow you to assess top players' track records and give you the ability to copy their trading strategies.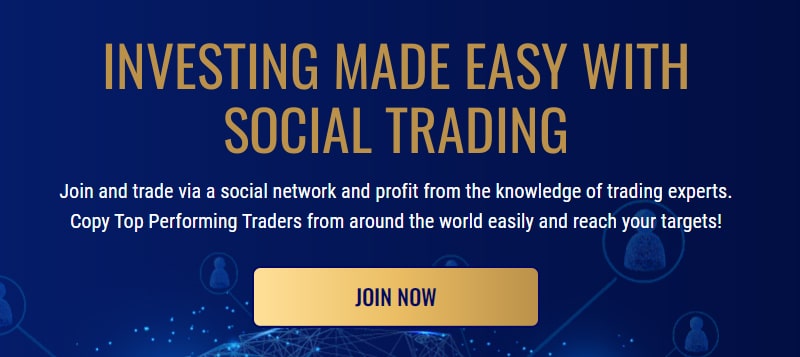 On the flip side, if you're already confident in your trading skills and believe others could benefit from your trades, you can make your trading strategies public. Then, if anyone copies them, you'll receive a commission.
Low Minimum Deposits
It's possible to open an account with MultiBankFX.com using as little as $50. You're welcome to fund your account with several currencies, including U.S., Euro, and Canadian dollars.
Furthermore, moving money into your MultiBankFX account is a breeze. You can choose from several deposit methods, including:
You can expect your funds to process within 24 hours, allowing you to start trading fast.
Choose Your Trading Platform
Regardless of the plan that you select, you'll have the choice between using MultiBankFX's MetaTrader 4 or MetaTrader 5 platforms.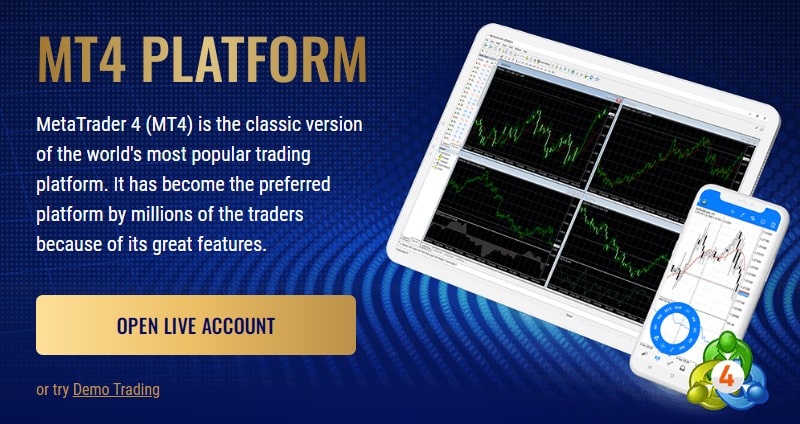 If you're new to trading and using Forex, we recommend downloading MetaTrader 4. It offers a more intuitive platform with statics, including your trading history, interactive charting, and 30 technical indicators that you can customize.
On the other hand, the MetaTrader 5 platform is a wonderful choice for more advanced traders. You'll have access to 21 timeframes, an economic calendar, and technical support.
Earn With Bonuses
Trading on Forex isn't the only way to earn money. Instead, MultiBankFX.com offers its users numerous bonuses and perks to keep their customers even happier.
One of the most noteworthy bonuses is a 20% deposit bonus. MultiBankFX sets the deposit bonus to $40,000, meaning that you can potentially earn big bucks for trading before you even execute your first trade.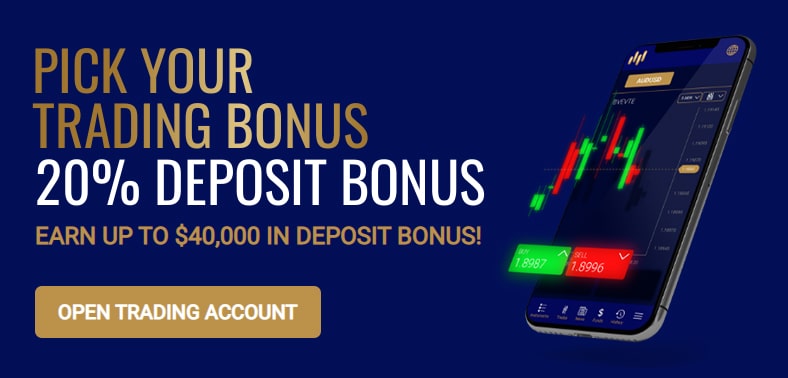 Other bonuses that MultiBankFX offers include:
Imperial bonus (up to $5,000)
Loyalty bonus (up to $3,500)
Refer a friend bonus (up to $4,000)
Cashback program
The way the cashback program works is the more you trade on MultiBankFX, the more cashback you can potentially earn.
MultiBankFX Costs
MultiBankFX offers the following three plans to choose from based on your trading goals.
Standard Plan
The Standard plan is ideal for people looking to dip their toes into the world of Forex trading. You won't have to pay any commissions on your account but will still benefit from stable spreads and fast trading executions.
Best of all, you don't need a lot of money to get started—$50 is the minimum. However, you have the opportunity to accumulate a lot of fast wealth (and losses, depending on the timing) thanks to MultiBankFX offering as much as 1:500 leverage.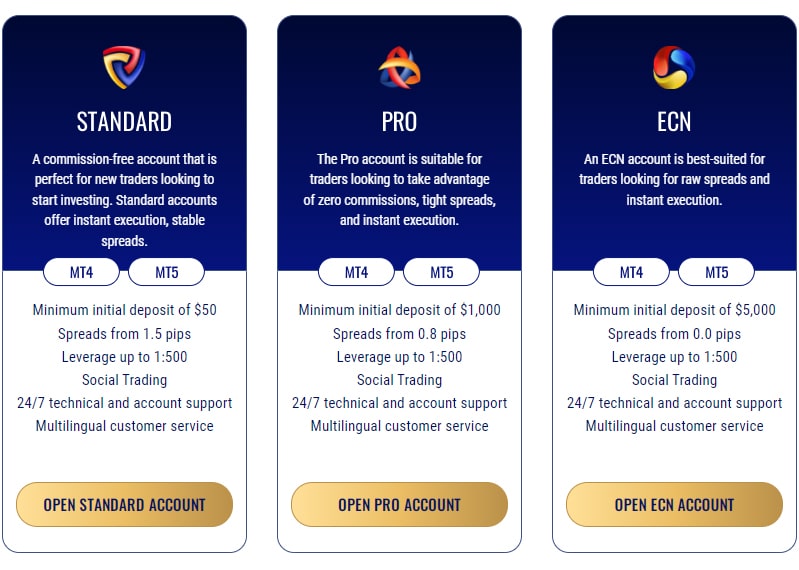 Pro Plan
The advantage of the Pro plan is that you'll have access to spreads as little as 0.8 pips, compared to 1.5 pips for the Standard plan. However, you'll need to put down a minimum of $1,000 to open this account.
ENC Plan
The ENC Plan packs a punch, offering raw spreads (0.0 pips). To access this powerful feature, you'll need to invest at least $5,000. Like MultiBankFX's other plans, you can leverage up to 1:500 on your trades.
Customer Support
Because MultiBankFX works with customers across the globe, they offer 24/7 support. Furthermore, you can choose to speak with a customer service representative in more than 10 languages, ensuring you get the information you need.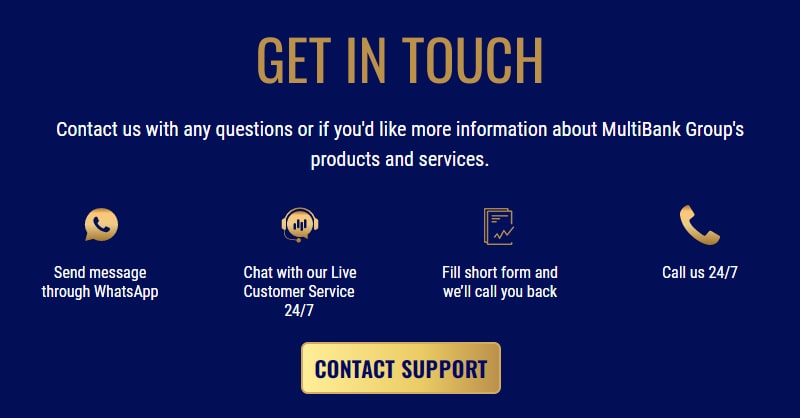 MultiBankFX offers several ways to contact them, including:
We recommend using the live chat or phone, as you can be sure to get in touch with a real agent, helping you get your questions answered faster.
MultiBankFX Regulations
MultiBankFX.com maintains high regulatory standards. More than 10 globally recognized financial regulators monitor them, with some big names including:
Australian Securities and Investments Commission (ASIC)
Federal Financial Supervisory Authority (BaFin)
Financial Management Association (FMA)
Chartered Institute of Management Accountants (CIMA)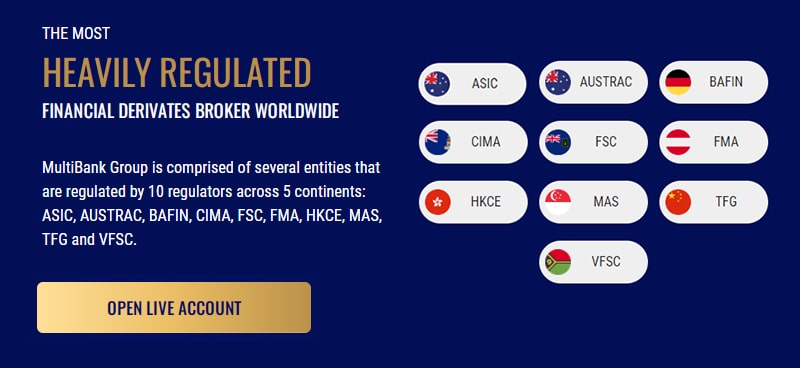 You can view MultiBankFX's full list of regulators here and have peace of mind knowing that they operate in five continents.
Final Thoughts
MultiBankFX.com is an excellent choice if you're interested in getting into Forex and CFD trading. It offers tight spreads, fair fee plans, and a jaw-dropping amount of leverage that can potentially help you build your bankroll faster.
So, if you're interested in giving them a try, open a live account today and begin your trading journey.
Risk Warning: CFDs are complex instruments and come with a high risk of losing money rapidly due to leverage. 79% of retail investor accounts lose money when trading CFDs with this provider. You should consider whether you understand how CFDs work and whether you can afford to take the high risk of losing your money.