Table of contents
Binary Options brokers have come into existence over the past few years, and OptionBit has followed suit, beginning their operations in May of 2010. The web based platforms give the traders using OptionBit the option to trade anywhere around the globe, pending that they have access to internet.
The base is operating out of Cyprus and continues to grow in a very competitive field. They have taken the Binary Option trading by storm and are making a name for themselves in their brief start-up period.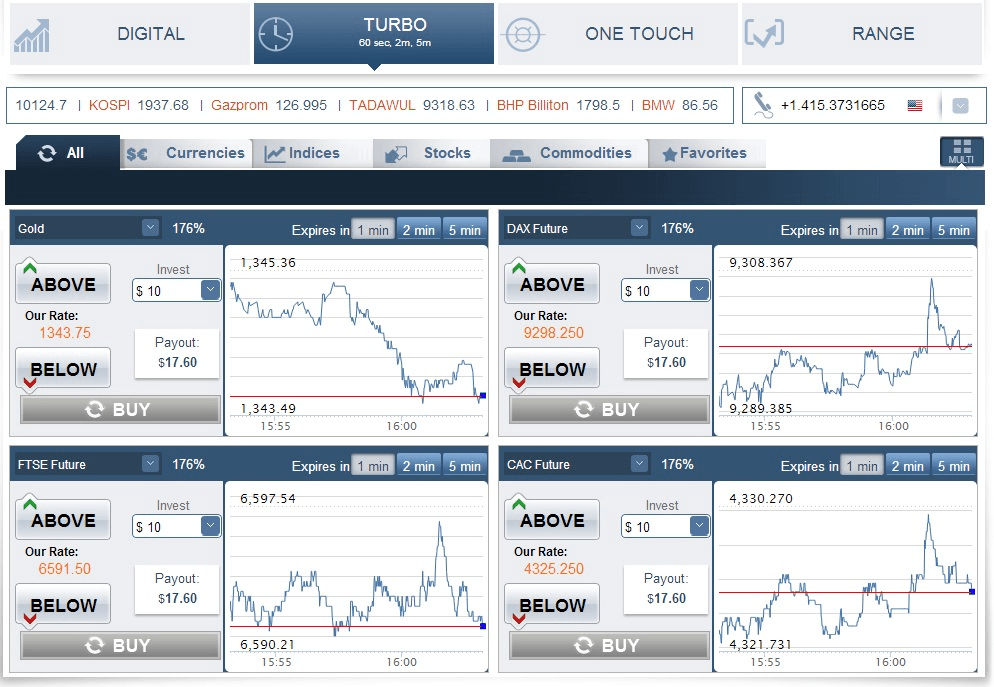 Top Features of OptionBit
Binary Options trading is an intricate process. It gives the trader a lot of customizability and the platforms have to be suit their needs. OptionBit allows more flexibility than most other Binary brokers. They have the Extend and Close feature, allowing the traders to extend the trade over a longer period of time or cut it short before the time has fully lapsed. If you are liking the outlook of the trade you have currently, you have the option to extend the timeframe and can earn more money. Contrary, if you are following a gut feeling or insight, you can cut your trade short, minimizing the loss of money or cutting the ropes while you have earned some.
In addition to the Extend and Close feature, there is also Autotrading offered on the trading platform. This software allows traders to rollover their profitable positions without having to be in constant contact with their computer (or mobile device).
The platforms are quite user friendly. They are entirely web based meaning you do not require any downloads or plug ins. If you have access to a computer (even one running on windows 98) with an internet connection, you have access to the trade market. Smartphones and Tablets also have access to the platform via mobile connections. Rest assured that you can reach your portfolio from anywhere in the world.

Another great incentive is the list of assets that are offered for trade. You can trade based off of commodities, including copper, gold, silver and even coffee. If your knowledge runs more into the world of stocks, than rest assured there are many different stock options such as Apple, Nike, Coca Cola and Google available to invest in. Currencies are also abundant with many of the major currency exchanges available such as the EUR/USD, EUR/JPY and the GBP/EUR.
OptionBit Prices
As mentioned previously, OptionBit does not charge any commission fees or a fee for the first withdrawal every month. Every subsequent withdraw (minimum of thirty dollars to a bank account or ten dollars to a credit card) is a fee of thirty dollars, regardless of how much money you are withdrawing. If you have to withdraw funds after the first of the month, be sure it is worth your while.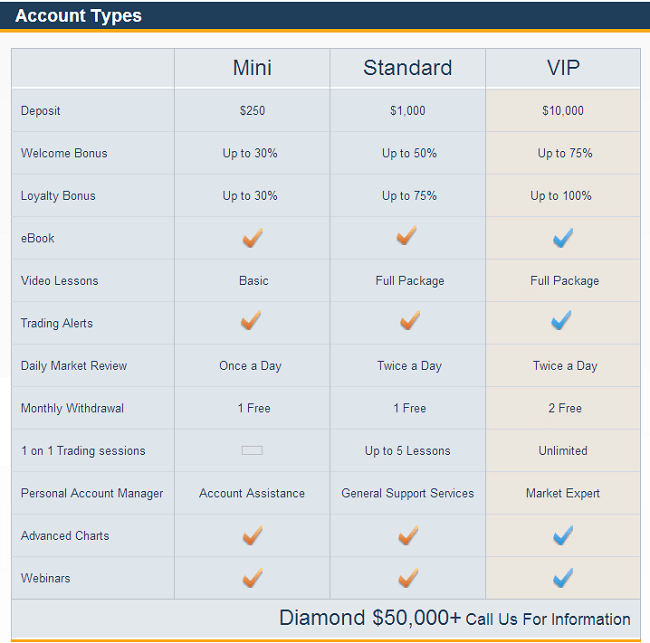 The initial deposits come with a welcome bonus as well, varying depending on how much you deposit. If your deposit is two hundred dollars to five hundred dollars, you are granted a thirty percent of your deposit. Between five hundred dollars and one thousand dollars you will see a forty percent bonus. For those whom are looking to invest over one thousand dollars will get a fifty percent bonus added into their account as well. Do know that with all the brokerage companies (Binary Options or others), the deposit is not available for immediate withdrawal. There are terms and conditions that are associated with the extra cash they are giving to you (there were many complaints about not having immediate access to the bonus funds for withdrawal).
If you are in good standing and have deposited enough money, you are entitled and enrolled to the VIP account. You are granted prioritized scheduling with market analysis, a faster withdrawal process (access to your money faster) and a customer service number that is available during trading hours. The VIP customer service line can be used to answer any questions much faster and more in depth than any of the other options that they offer.
The Downsides of Using OptionBit
Most brokers do not charge commission or withdrawal fees, meaning the money that you have made from your trading is truly your money. The brokerage makes their money off the spreads and pips. Unfortunately, OptionBit does not follow the same procedures. They do not charge a commission which is pleasant of them, but there is a withdrawal fee. The initial withdraw every month is free, but it is a charge of thirty dollars per withdraw after that. It is not a terrible downfall, but be sure that you do not make excess withdraws from your portfolio.
The only other downside to using OptionBit is the length they have been in business. With only a few years under their belt, it is quite possible that they will be going through many different adjustments and changes over the next few years, especially if they continue to grow as quickly as they have been in the last year.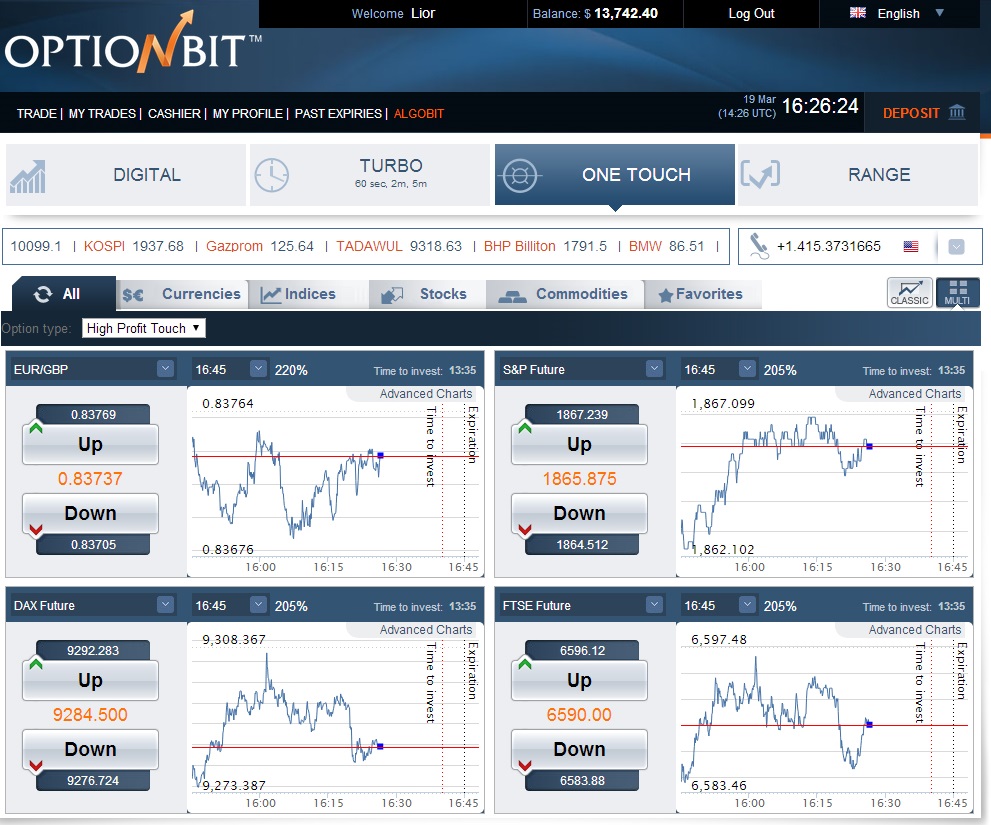 OptionBit Customer Support
The customer service representatives are very knowledgeable and helpful. Their multi-lingual staff can reach English, Spanish, German, Russian and Turkish traders with ease through either email, phone support or live chat. There are brokers that offer over twenty different languages, but with OptionBit being such a new company, it is promising to see a rapid growth in languages.
You can call and leave a message if you do not have the time to wait, and they will promptly call you back at an agreed upon time. Typically the email responses are returned within thirty minutes during trading hours, maybe a little bit longer outside of the trade hours; but the customer service is available twenty-four hours a day.
Conclusion
OptionBit is a great Binary Options brokerage. The tools and easy to use web based platform make trading and profiting easier than ever. With the addition of both the Extend or Close feature and the Autotrading, they are propelled into a class all by themselves. Couple that with a wonderful customer service team, and they have paved the road for years of strong trading and growth as a company.