In the world of binary options trading, finding the right broker that meets your personalized needs is important. BinaryTilt.com is often noted for its ease of access and the performance of its platform. It is a highly reliable system with a high rate of payouts and range of available payment methods.
With BinaryTilt, you have several trading contracts to choose from. You can pick from high/low, one touch, option on demand, or range high/low trading. When we visited the website, we felt it clearly laid out the trading process, even for someone new to the game. The homepage quickly discusses what binary options are and why trade them, but seems to assume you're somewhat familiar with basic trading concepts.
The process of choosing an asset, predicting its direction, and winning is outlined in a three step strategy. It looks easy enough. You should always be aware of the fact market knowledge and educated decisions will increase your chances of success. Other positive aspects of BinaryTilt include free trading signals, a personal broker, one-on-one training, and funds held with AAA rated banks. The site promises up to 100% returns as well.
Our first impression of the site was it is attuned to getting the visitor to sign up. You're instantly prompted to start a free trading account with no commissions or fees. Even we can admit most online forms are quite enticing. Put in a few details and you can "Open Now". We're not saying BinaryTilt is pushy. In fact, it has a reliable platform and good educational resources that will be explained in this review.
About BinaryTilt
BinaryTilt went into operation in 2013 but Australian traders find the New Zealand based holding company to be extremely reliable. Its management team, skilled in the leading online trading platforms and global markets, has worked with the world's largest brokerages. Experience working for multinational investment banks helps too.
As is stated on the website, the company is compliant with all the relevant laws, regulations, and standards. BinaryTilt is the trade name of its parent organization, Sumo Forex Limited, located in Auckland, New Zealand. It is registered as a Financial Services Provider on the FSPR, or the New Zealand Financial Services Providers' Register. This trading broker is therefore required to adhere to various strict financial standards.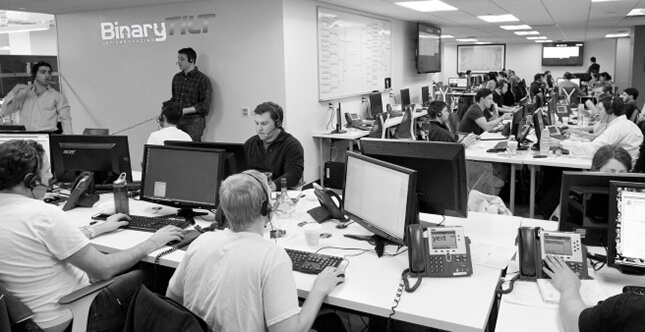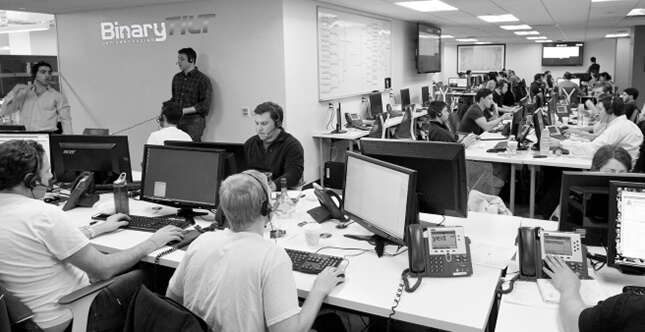 The trading platform adopted by the company was developed by MarketsPulse. They're a leading technology company specializing in binary options and spot forex trading systems. In fact, several leading online brokerages have adopted this platform. It is well-designed yet not too sophisticated. BinaryTilt also provides clients with mobile apps that support all of the trading options it provides.
Financial security is the company's top priority. It has actively sought to create a user-friendly trading environment along with a transparent pricing and service structure. The financial and trading experts in the company are equipped to provide 24/7 assistance plus advice. It has gone to great lengths to establish a team with global market knowledge and who work to inform traders and help them be profitable. Integrity, honesty, responsibility, reliability, and flexibility are part of BinaryTilt's mission.
Account Types
There are six different account types to choose from. You must deposit at least $350 to get started. That's for the basic plan, but to learn about all six detailed on the website, here is an outline of each one and its features.
Basic: A minimum deposit of $350 is required. The plan includes daily analysis.
Classic: Catering to Level 1 trading classes, per the company's description, this requires at least a $1,000 deposit and you get a daily analysis and personal broker. It also provides a week's worth of signals and three-day withdrawal processing.
Premium: The minimum deposit is $5,000, but this functions at Level 2 trading classes and you get a month's worth of signals. Withdrawal processing time is two days. Here you also get 0.5% cash back while a minimum balance of $2,500 is required.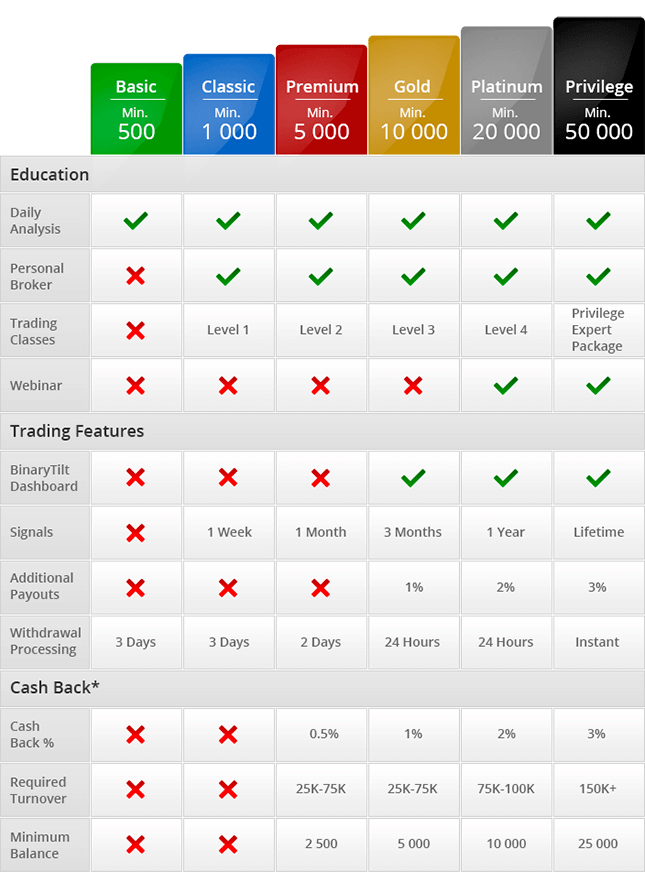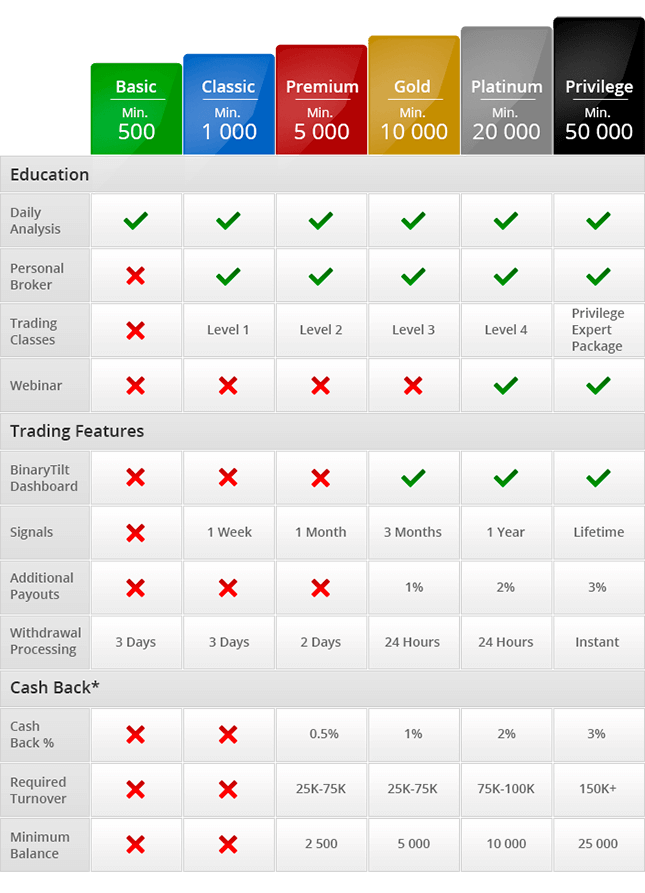 Gold: The minimum investment is $10,000, but at Level 3 trading classes you get three months of signals and 1% additional payouts. You also receive withdrawal funds within 24 hours. The 1% cash back may be enticing, but your minimum balance must be $5,000.
Platinum: You need a minimum of $20,000 for this Level 4 class package. A webinar, BinaryTilt Dashboard, and a year of signals are provided. Also, you can get up to 2% additional payouts, 2% cash back while holding a minimum balance of $10,000.
Privilege: A minimum deposit of $50,000 is required for this highest tier plan. You get a lifetime of signals, 3% payouts, instant withdrawal processing, 3% cash back, and must hold a minimum balance of $25,000.
The website claims that up to 100% returns are possible. This is true for those who go with the one touch option. The average return on investment, however, is anywhere between 70 and 80%, which is not that bad. There are more than 100 types of assets to choose from. In addition to currency, assets may also include commodities, stocks, and indices.
BinaryTilt Features
Here there are a few unique features among binary options sites. Firstly, a demo account lets you effectively test the platform without investing any money. Great if you are learning, the demo account isn't specific to the brand, but you can take advantage of up to four risk free trades and receive guidance from an account manager.
Options on Demand: This trading contract lets traders open several positions on the same asset. These can be made at any time so long as the asset is being traded in the market.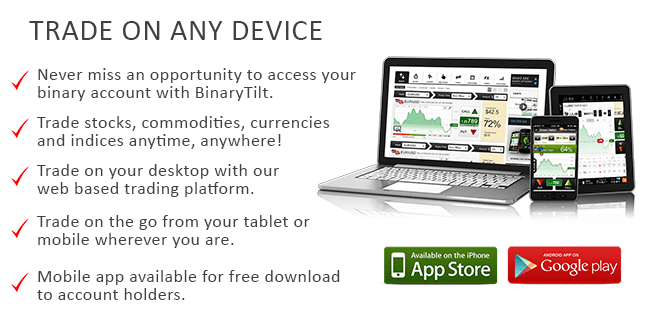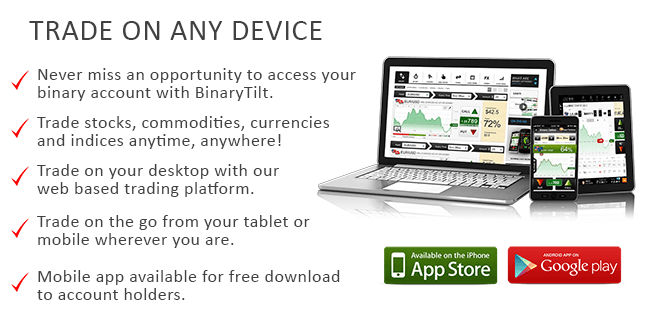 Mobile Trading: BinaryTilt lets you trade using a smartphone or tablet. The trading application is available for iPhone, iPad, iPod Touch, and Android and lets you open binary options trades. You can also track open trades, sell them, get real time quotes and payouts/expiry times, and view account balances and trade reports.
Transparent Trading Platform: When you opt to "Trade Now", you can select any currency pair, stock, commodity, or indices and see a chart of its performance based on your selected trade type. Expiration times are listed and there's also a countdown until the expiry time. To make a trade, click on Call or Put and either select your investment amount or input it directly. Your payout rate is also indicated on this dashboard. This feature is embedded directly on the webpage making it truly fast and simple.
10Trader Software: Available to members with a gold account, the software platform enables you to trade up to four assets at a time and set up technical indicators to analyze stocks. It also lets you test theories before investing, forecast trends, and search for trades that match your parameters. The app is something for professional traders to use for maximizing profits.
Customer Support: We found many options for contacting BinaryTilt, including a web contact form, live chat, and email. Telephone support is also available. For all, the company will provide assistance during service hours, which are pretty much typical business hours from Monday through Friday and in New Zealand time. The company's deposit/withdrawal and privacy policies are clearly laid out on the website as well.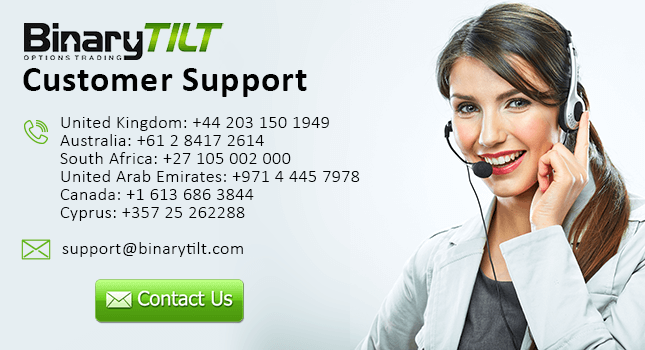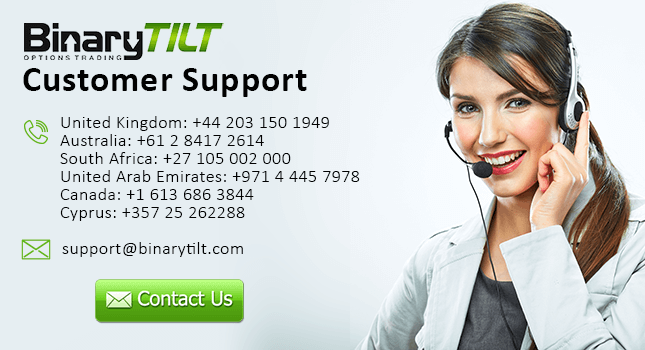 Refer a Friend: If you refer someone and they deposit at least $500, then you will be credited with 10% of whatever they initially deposit, up to $100. You'll get $500 more if 10 friends deposit at least that amount.
Education Center: Resources include videos, a glossary, and an e-book. You must register to unlock different resources but there are complete sets of lessons for binary options, market analysis, options strategies, social trading, and a platform overview. Another cool part of this section is the "Trader Progress" slider, which increases the percentage as you complete your lessons. Content is also available in a multitude of languages.
The Investor Academy is another educational section. It covers topics in various categories and includes news, outlooks, events, and investment tools and resources in a blog-like format.
Real Time Economic Calendar: A detailed economic calendar covers various currencies and events. Actual numbers and forecasts are provided. This feature is especially useful for anyone who trades currency or natural resources.
Final Words on BinaryTilt.com
Binary Tilt is one of the most simple and direct binary options trading sites around. You'll need some knowledge to jump into trading, but there are many interactive educational resources, plus a trading platform that gives the information you need to make educated decisions. Signing up is simple and the site clearly shows you the process of trading assets.
You certainly have a choice of currencies, commodities, stocks, and indices to trade. With real-time economic indicators, forecasts, and a calendar, assessing the status of the market or individual assets is easy. BinaryTilt is perhaps the best platform for making educated decisions on binary options trading. The site is definitely geared toward market analysis and the customer in general, so if you're seeking to trade with a broker that's looking after your interests, this is certainly one to go with.