BlackBull Markets is a forex broker offering self-driven trading services to customers around the globe. It has a comprehensive desktop and app platform for making fast trades the moment you request them.
We'll share the ins and outs of BlackBull Markets so that you can decide whether they're the right fit for your trading goals.
About BlackBullMarkets.com
BlackBull Markets made its debut in the global forex broker world in 2014. It's an Auckland, New Zealand, company serving clients in over 180 countries.
BlackBull Markets had a lot of happy customers from the start, and they soon expanded to open an office in Malaysia in 2015. Now, they also have an office in Shanghai and Mexico.
By becoming a BlackBull Markets customer, you'll have access to over 23,000 opportunities for trading across forex, CFDs, equities, and commodities. You can also choose from trading on MetaTrader 4 (MT4), MetaTrader 5 (MT5), and WebTrader.
In 2020, BlackBull Markets became licensed by the Financial Markets Authority (FMA). They currently have a small but faithful group of over 20,000 customers who actively trade on their platform. The relatively small size of BlackBull means that you can expect exceptional customer service.
Top Features of BlackBullMarkets.com
As you work on comparing BlackBull Markets to other online broker competitors, below are some of the most notable features that they offer.
Reasonably Priced Spreads
BlackBull Markets' spreads start at as little as 0.0 pips, although the spread amount depends on the type of account you have and whether you're trading at a peak time. Not all BlackBull Markets' spreads are the cheapest, but they're usually competitive with or less expensive than average.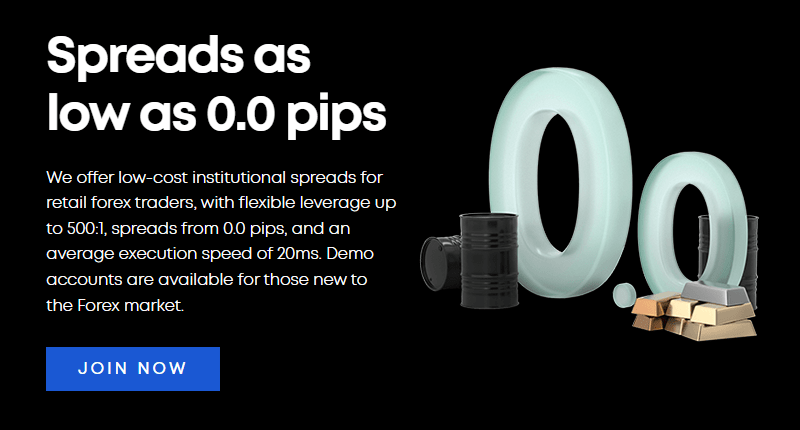 Furthermore, BlackBull Markets includes their commissions in the spreads. So, you don't have to worry about encountering unexpected fees when you execute a trade.
Fast Execution
You won't have to hold your breath to see if your trade will go through after placing an order on BlackBull Markets. In the company's words, they offer "lightening-fast" trade executions, and we whole-heartedly agree.
Knowing that an online broker emphasizes fast transaction speeds is crucial; the timeliness of trades can significantly impact its profits or losses.
Many Account Choices
BlackBull Market offers three main account types for traders: ECN Standard, ECN Prime, and ECN Institutional. The most notable difference between them is how much money you need to deposit ($50, $2,000, and $20,000, respectively).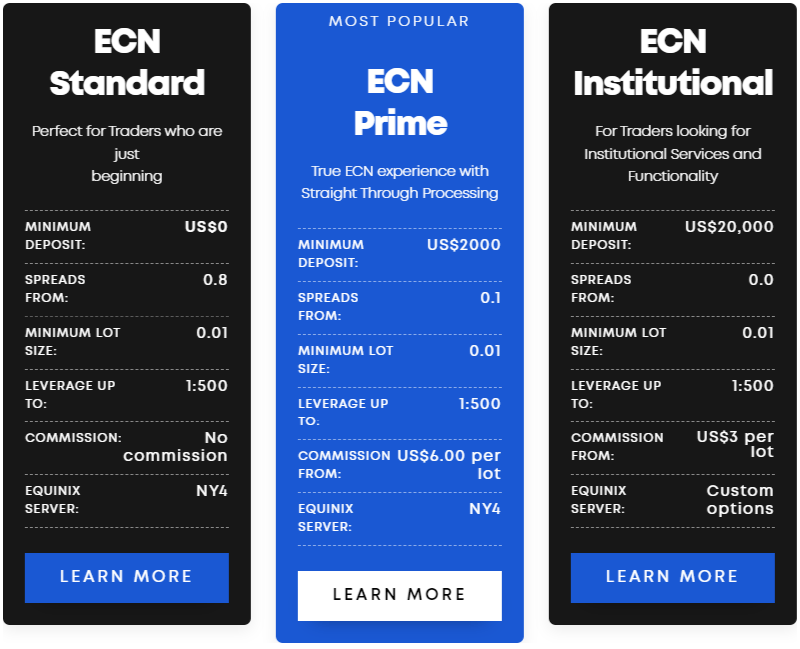 As you'd guess, the trading conditions become more favorable the higher the amount you can deposit. Nevertheless, the good news is that you'll be able to leverage up to 1:500 regardless of your account.
BlackBull Market does an excellent job of offering a comparison chart of their different accounts. We encourage you to read through it before clicking on "Learn More" to dive into more details about the account(s) that interest you most.
High Leverage
You can leverage up to 500:1 on BlackBull Markets, allowing you to potentially turn a tiny sum of money into a small fortune.
Should you choose to trade with leverage, we encourage you to proceed with caution. While leverage can be an excellent way to make a significant profit, if the trade goes wrong, you could lose more money than if you made the trade without leverage.
Excellent Educational Resources
BlackBull Markets caters to novices and experienced traders, which is evident based on the variety of educational resources they offer on their website. Whether you learn better by reading informational articles or watching instructional videos, you'll find near-countless training resources at BlackBull Markets.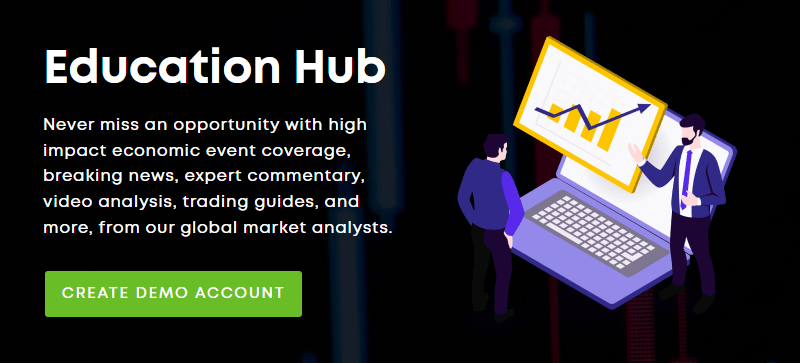 We recommend starting with their Learn to Trade page if you're new to forex and CFD trading. You can also check out their trading glossary for the low-down on must-know trading lingo.
No Deposit Fees
To be fair, many online brokers don't charge deposit fees. But it's an important point nonetheless, given that every dollar saved is more you can invest and (hopefully!) grow.
BlackBull Market also doesn't charge withdrawal fees. However, several payment providers charge a $5 fee if you wish to withdraw any of your money. You can view the full details on BlackBull Market's withdrawal page, but the general gist is that credit card, Neteller, Skrill, and international bank transfers all incur a fee.
Demo Trading
Whether you're on the fence about BlackBull Market or this is your first time trading forex or CFDs, taking advantage of their free demo trading is an excellent option.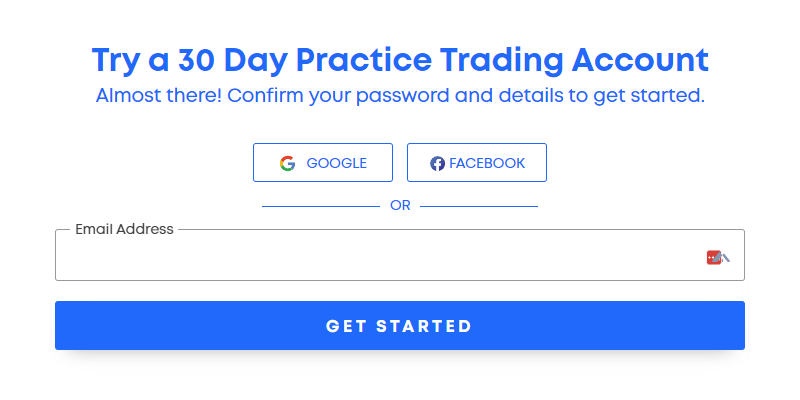 BlackBull's demo trading is a bit of a double edge sword—it offers $100,000 in free virtual funds for you to trade with, which is more than most of its competitors. However, you only have access to the demo trading for 30 days, which is often less than what you can find elsewhere.
Nevertheless, we wholeheartedly feel that BlackBull Markets' demo trading account is an excellent place to start your journey with them. You can even choose different leverage ratios, offering you the opportunity to see in real-time how much you can earn or lose from it.
BlackBullMarkets.com Commission
You'll be able to take advantage of average to low forex and CFD fees at BlackBull Markets, making them a strong contender as an online broker. Most Prime accounts have only a $3 commission per lot, per trade.
Best of all, you won't have spread fees on top of that since BlackBull Markets wraps their commission fees into them. That means if you're trading during peak times, you can expect the spread to be around 0.2 and 0.5 pips when trading the Euro and British Pound paired with the dollar, respectively.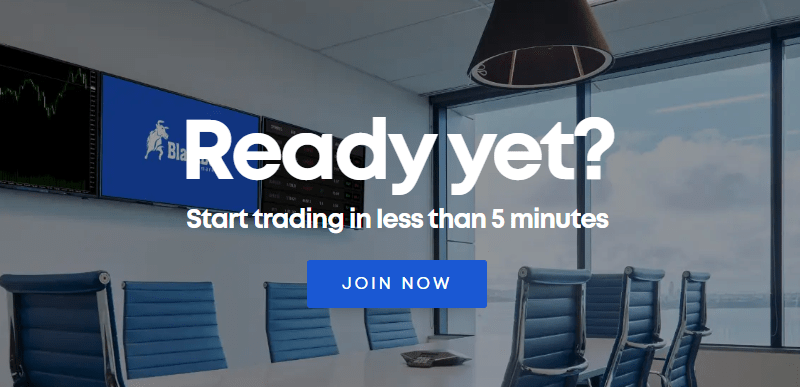 Trading the S&P 500 as a CFD also entails low fees. You can expect the BlackBull Market's fees to be around 0.6 points.
The commission you pay will depend on the type of account you have at BlackBull Market. For example, their Standard account only has a $50 minimum deposit but comes with higher commissions. In contrast, if you deposit at least $2,000, you'll qualify for BlackBull Market's ECN Prime account, which offers lower fees.
Finally, we'd be remiss not to note that BlackBull Markets doesn't charge an inactivity fee. That places them ahead of some of its competitors, who set a monthly fee if you don't make a trade on your account after a certain period of time.
Customer Support
BlackBull Markets offers 24/6 customer support. Yes, you read that right—that's a six, not a seven, given that they don't work on Sundays.
You can contact BlackBull Markets via the following methods: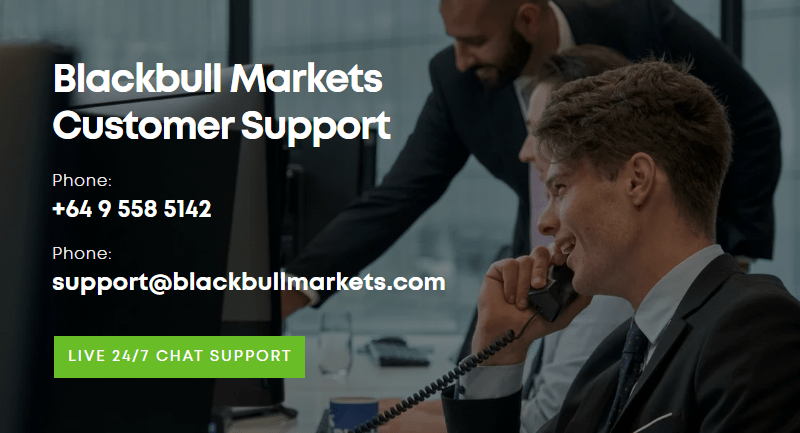 So that you can get help faster, BlackBull Markets streamlines their email process by directing you to different addresses according to your question. Whether you have questions about banking, a trade, compliance, and more, you can find a suitable email address on their customer support page.
Since BlackBull Markets is a global company, they work with clients across many languages.
BlackBullMarkets.com Regulation
BlackBull Markets is a regulated online broker. They have registration in their home country, New Zealand, with the Financial Services Provider Registry (FSPR).
They also have a membership with the Financial Services Complains Limited (FSCL), meaning that an external body will be able to support you with serious dispute resolution claims. You can view BlackBull Markets' registration numbers and further details on their compliance page.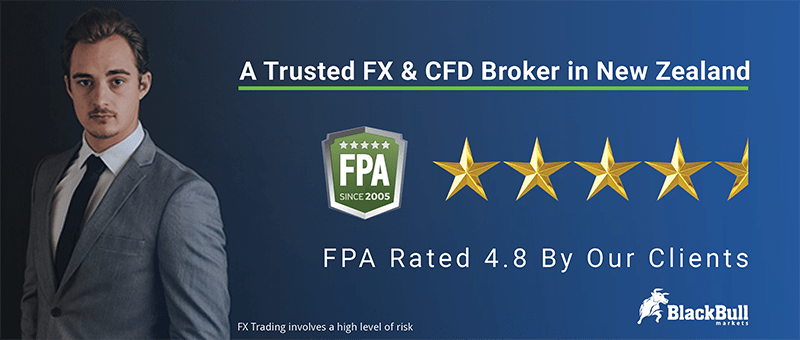 BlackBull Markets assures its customers that the funds they hold on their platform are safe. They use the banking provider ANZ Bank which, in addition to New Zealand, has a presence in worldwide regions, including Asia, Europe, the Pacific, and the United States.
Note that BlackBull Markets is part of the Black Bull Group, so you'll often see them registered under this group name. Every year, BlackBull Markets must legally submit its company files and undergo an audit with the NZ Companies Office, much of which the public can view.
Final Thoughts
BlackBull Markets is an excellent choice if you're on the market for an online forex broker. They offer low forex and CFD fees under many conditions, although you'll need to deposit a minimum of $2,000 to qualify for the lowest commission.
You can also expect a friendly and personalized customer service experience. We would love to see BlackBull Markets extend their customer support to being 24/7, but their 24/6 arrangement is more than many competitors offer.
If you feel that BlackBull Markets could be the right fit for you, give their 30-day free demo a try.
Risk Warning: CFDs are complex instruments and come with a high risk of losing money rapidly due to leverage. 79% of retail investor accounts lose money when trading CFDs with this provider. You should consider whether you understand how CFDs work and whether you can afford to take the high risk of losing your money.