Eightcap is an Australian-based forex broker that launched in 2009. Two regulating bodies oversee it in both tier-1 and tier-2 jurisdictions.
Cryptocurrency contracts for differences (CFDs) are the primary offering at Eightcap.com. They offer over 250 choices along with 45 forex pairs.
So, if you're on the market for an online cryptocurrency-based forex broker with low spreads and many deposit methods, Eightcap could be a good fit for you. We'll give you a comprehensive overview of this broker so that you can determine if you want to sign up with them.
About Eightcap.com
Eightcap.com boasts that it offers personalized forex broker services to its customers. It's an excellent choice for people who want to trade cryptocurrency through CFDs without working with the actual crypto asset.
The founders at Eighcap designed their company for traders who use MetaTrader 4 and MetaTrader 5 platforms. For this reason, it targets people with advanced trading skills; beginner traders will likely feel lost with the learning curve for using its technical tools and vocabulary.
Eightcap is proud of being an award-winning broker. People trust them for trading in over 1,000 global markets in countries such as Australia, the United States, and Europe, and they have an "Excellent" rating on Trustpilot to prove it.
Top Features of Eightcap.com
Eightcap offers many excellent features that make people choose them for their forex brokerage and crypto CFD needs. Below is an overview of some of the top services you'll receive from them.
250+ Cryptocurrency Derivatives
It's hard to beat the array of cryptocurrency derivatives that Eightcap offers for trading. You'll encounter some of the biggest names in the crypto industry, like Bitcoin, Dogecoin, and Solana.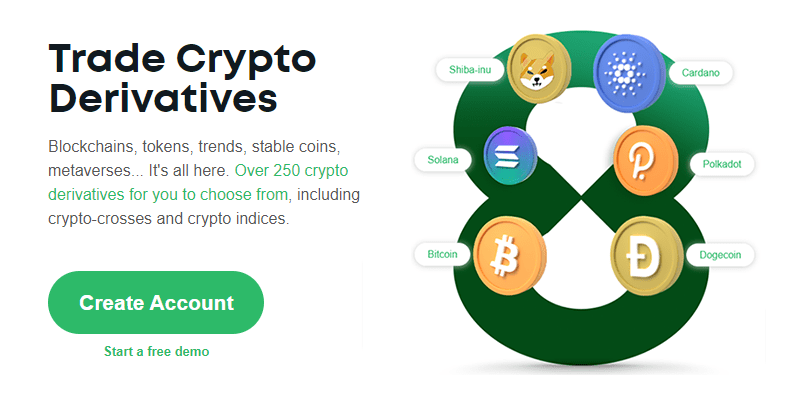 Meanwhile, if you have a higher risk tolerance in an already high-risk market like crypto, you'll have access to trading many lower cap altcoins and stablecoins. Eightcap.com also offers the opportunity to trade crypto-crosses and crypto indices.
Low Spreads
You can trade from as little as 0.0 pips on Eightcap's forex, indices, and cryptocurrency CFDs with a Raw Eightcap account.
Should you wish to trade a commodity, they start at just $0.1. On the other hand, share CFDs are only $0.02 per share. These low spreads make Eightcap.com a significant competitor in the trading space, and they can help you keep more of your hard-earned money for investing in trades.
Demo Account
If you're on the fence about whether Eightcap is a good fit for you, we encourage you to contact them about a demo account. The demo is in the form of a trial account, and it's completely free for new potential customers.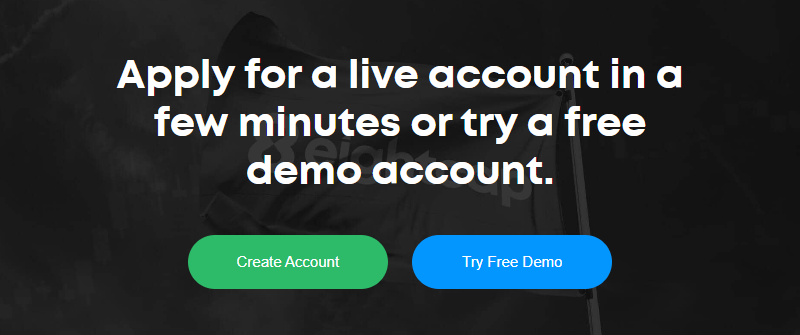 By setting up a demo account, you'll access Eightcap's trading platform and can make mock trades using the virtual funds they provide. You'll also have access to their live price feeds so that you can see how their tight spreads and execution work in real-time.
Automated Trading
Eightcap believes its customers shouldn't need coding skills to design personalized automated trades. That's why they work with the code-free software, Capitalise.ai, that's free for all customers, allowing them to use aggregated data to plan and execute potential trading strategies.
By using Capitalize.ai, you'll have access to risk management tools, trade signals, and indicators that can help you trade the news, potentially enabling you to make lucrative profits. You can also sign up for real-time phone or app notifications so that you never miss an enticing trade.
MT4 and MT5 Platforms
Choose between using the MT4 or MT5 platforms for trading at Eightcap. Neither of these platforms is ideal for trader newbies, but both offer powerful tools for intermediate to advanced traders.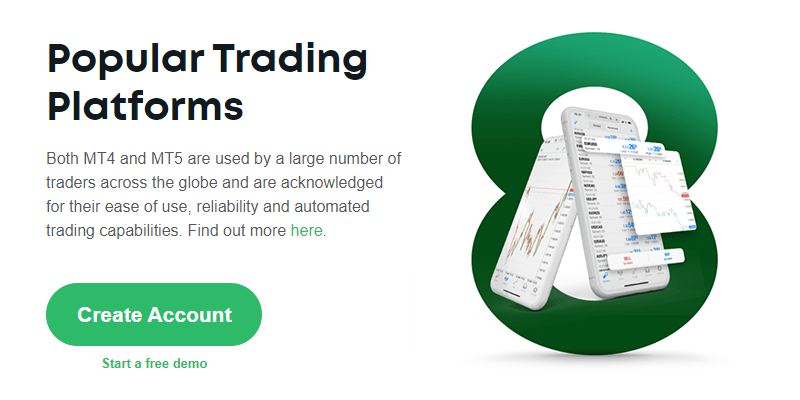 Both MT4 and MT5 offer transparent pricing and fast transactions, giving you the peace of mind that the careful trade you set up won't go astray due to a lag in the order books. You can also use MT4 and MT5 on your desktop or mobile device, making it perfect for trading the markets no matter where you are.
Mobile App
Eightcap offers a mobile app so that you can do your trading on the go. But to receive the full trading functionality for your account, you'll need to download both Eightcap's app and the MT4 or MT5 app, depending on the trading platform you choose.
We appreciate Eighcap's app because it gives instant price alerts. It also has an excellent search engine for locating what you need fast, and its overall platform has a sleek, user-friendly feel. We hope that in the future, they include a two-step or face ID login option to improve the app's safety, though most mobile devices these days already have built-in safety features.
Many Banking Methods
You won't have to jump through hoops to deposit or withdraw money from Eightcap. They offer over a dozen deposit methods ranging from credit cards to Neteller and cryptocurrency.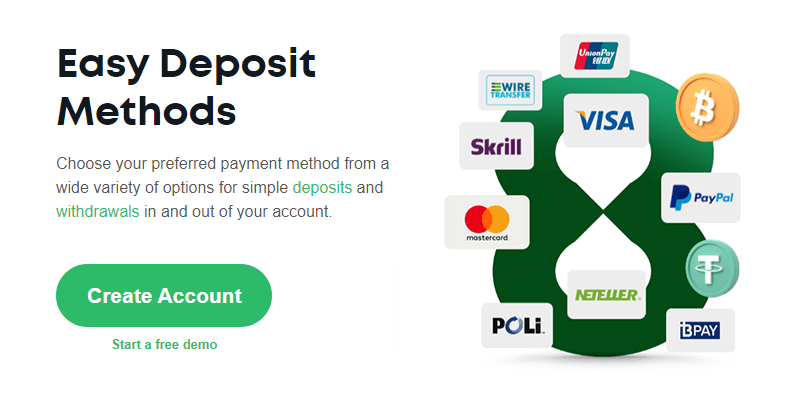 We encourage you to check Eightcap's respective deposit and withdrawal pages, though, because each banking method has certain country currencies with which they're compatible.
Leverage Choices
If you wish to trade with leverage and you're an Australian retail client, you'll be able to do so up to 30:1. In contrast, Australian wholesale clients and non-Australians can choose massive leverage up to 1:500.
Trading with leverage is a high-risk activity. Furthermore, you need to take care when arranging your leverage trade on Eightcap, given that it usually has a high default preset level. Nevertheless, trading with leverage can be an excellent opportunity for people with small sums of money to potentially increase their bankroll quickly if the markets work in their favor.
Eightcap.com Commission
Eightcap offers some of the lowest commissions in the trading space. If you sign up for a Raw account, the lowest spread starts at 0.0 pips. Standard accounts begin with a 1.0 pips spread. You'll also only pay $3.5 in commission per lot with a Raw account.
If you choose to trade global indices at Eightcap, you'll be able to do so in small contract sizes. That's ideal for traders with a small bankroll, and Eightcap won't hit you with massive fees for doing so.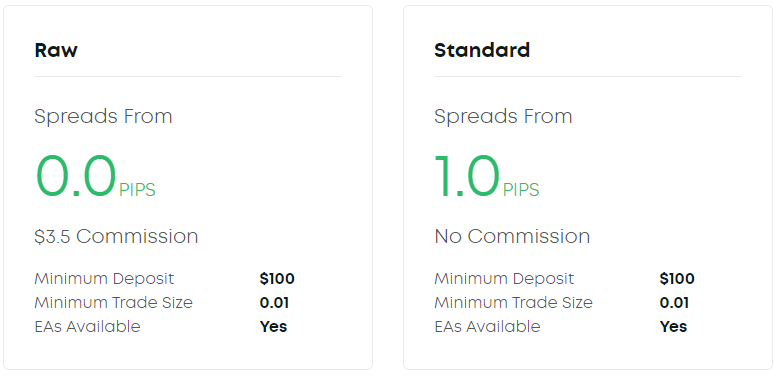 The commission for trading cryptocurrency CFDs varies according to the asset you trade. Eightcap pins any given crypto asset's price to the dollar. So, depending on market volatility, you can expect some fluctuations.
Unlike some online broker firms, Eightcap never charges an inactivity fee if you step away from trading for a while.
We recommend visiting Eightcap's trading conditions page for a detailed breakdown of commissions, spreads, and more. Understanding how much money you'll pay in fees before signing up with an online forex broker can save you countless money in the long run.
Customer Support
Eightcap.com does an outstanding job of making its customers feel well-supported. They offer contact methods via pheon, email, and online chat.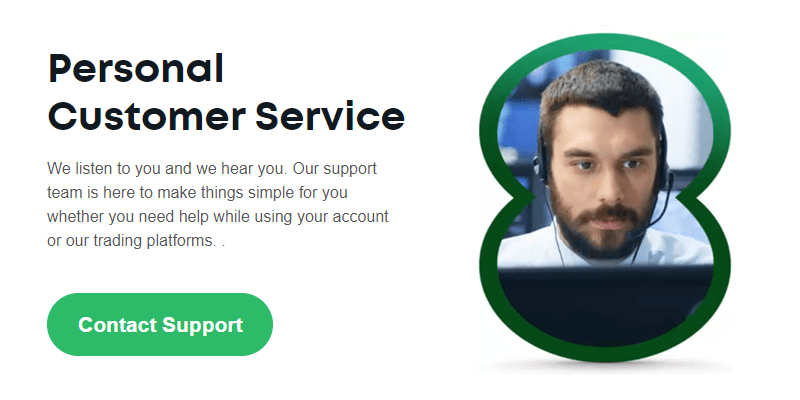 Since people around the globe use Eightcap, they have a knowledgable, multilingual team to answer your questions. Their customer service representatives speak the following languages:
Equally as remarkable, Eightcap provides 24/7 service. That's a huge advantage, given the range of world regions they cover and the fact that the cryptocurrency market never closes.
Eightcap.com Regulation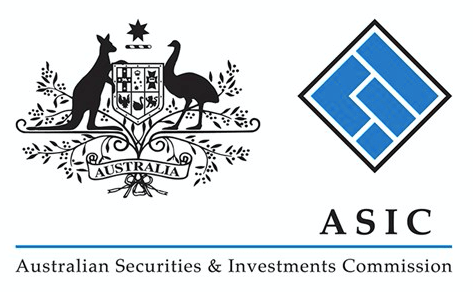 Eightcap has two primary regulating bodies: The Australian Securities and Investments Commission (ASIC) and the Vanuatu Financial Services Commission (VFSC).
It's easy to encounter information about Eightcap's legal standing, for they have a legal policies section on their website.
The legal policies page offers a detailed breakdown of their external governing bodies. In addition, it includes downloadable documents such as a risk notice, complaint management policy, and target market determination for each of the markets they work with.
So, it's an ideal section to visit if you love geeking out on the nitty-gritty details of Eightcap's regulators and the terms of its services.
Final Thoughts
Eightcap.com is an excellent fit for intermediate to advanced traders looking for the familiarity that comes with using the MT4 or MT5 platforms while having the backing of a fully regulated Australian forex broker.
Although Eightcap offers over 250 cryptocurrency CFDs, it has a more limited range of CFD symbols and forex pairs than some competitors. However, the advantage of this is that there's less of a chance of a crypto rug pull, given that Eightcap is pickier about the quality of its trading offerings.
As long as you already have a base in the forex and CFD trading space, we recommend Eightcap as a strong contender for your trading needs.
Risk Warning: CFDs are complex instruments and come with a high risk of losing money rapidly due to leverage. 79% of retail investor accounts lose money when trading CFDs with this provider. You should consider whether you understand how CFDs work and whether you can afford to take the high risk of losing your money.