In this detailed review, we're going to look at all aspects of Deribit, including the history, features, how to deposit and withdraw money, fees, licenses and regulations, and customer support. Get ready to learn everything you need to know about Deribit.
By the time you finish this review, you'll be able to decide if this Deribit is the cryptocurrency exchange for you.
About the History of Deribit.com
Deribit launched in June 2016 after going through years of development. This company is the brainchild of founder John Jansen (current CEO) and Sebastian Smyczýnski – CTO.
Jansen got his start as an Amsterdam Exchange options trader back in 1999. Once he learned about Bitcoin in the summer of 2012, Jansen became hooked.
He first started trading crypto on exchange sites, which led him to an epiphany in 2014—to design a trading platform for cryptocurrency options and futures.
In 2021, Deribit has become one of the fastest-growing and most transparent platforms for managing cryptocurrency. This derivatives exchange has its home office in the Netherlands, with day-to-day operations in their Amsterdam office.
Legally, the company registers as Deribit B.V., operating from Stationsstraat 2 B, 3851 NH, Ermelo in The Netherlands. In addition to Jansen and Smyczýnski, the team also includes lead developer Andrew Yanovsky and Marius Jansen – CTO.
Twenty employees in total manage the platform's operation, including the four owners. The name Deribit comes from combining the first letters of derivatives with those from Bitcoin.
Top Features
Multiple features have helped Deribit become one of the top cryptocurrency platforms for users in over 100 countries. You can view the site in English, Russian, Chinese, Spanish, Japanese, Turkish, and Korean.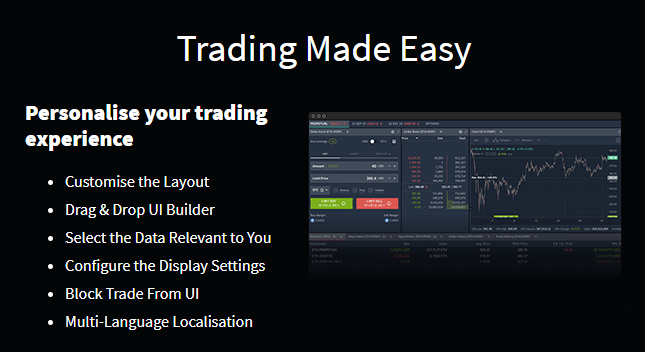 However, users from the USA, North Korea, and Syria are not allowed to sign up or trade cryptocurrency. Deribit uses IP verification to ensure no illegal users access the platform.
Functionality
Deribit operates as a web-based platform with a user-friendly interface with a wide variety of easy-to-navigate functions.
For on-the-go access, you can download the app to compatible iOS and Android devices by visiting the appropriate app store and searching for Deribit. Here's a helpful video on how to trade cryptocurrency using Deribit on your mobile device.
Features that you can access with ease include your order book, recent trades, and trading history. You can also view volatility charts, index, futures, technical analysis indicators, a range of statistics, and crucial data about options and futures trading.
Technologically Advanced
Deribit prides itself on continually improving with advanced technology and proprietary software. They use a powerful framework that allows for ultra-low latency of <1ms.
Their unique matching engine operates on Erlang language, a strong and reliable protocol that allows the platform to handle multiple modules and messages occurring simultaneously.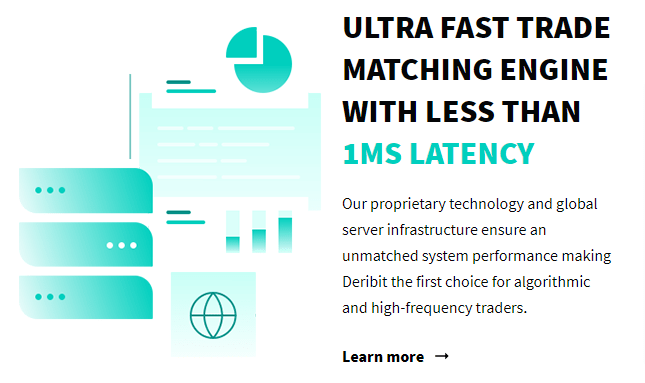 In addition to the matching engine, all of Deribit's technology is also proprietary, including portfolio margining and risk metrics.
To date, Deribit states that they have had zero occurrences of socialized launching due to their risk management and incremental liquidation system.
Users can view and trade using the web interface on a computer, through the app, or using compatible trading bot software. A few partners they allow integration with are Actant, BotVS, and HaasOnline.
An additional security feature is using cold storage for around 99% of users' funds. Most of the funds are in vaults using various bank safes.
Trading
Users have access to a wide range of trading features for both Futures and Options exchanges. Deribit gives all members 10 BTC in demo funds that you can use on the testnet to practice trading strategies before going live.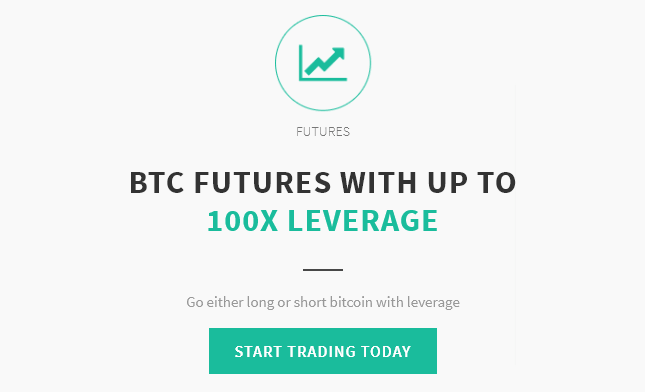 You also have the option to participate in margin trading. Leverage trading is a specialty of Deribit. You can choose to go up to 10x leverage for leveraged trading or up to 100x leverage for BTC futures.
Deribit Commission and Costs
Deribit operates on a maker-taker fee scale. You will pay different fees for orders that receive liquidity – taker – and those that provide liquidity – maker.
Fees will also vary by product, determined as a percentage of the asset listed in the contract. Current numbers look like this:
| | | |
| --- | --- | --- |
| Contract | Maker | Taker |
| BTC Futures/Perpetual | 0.00% | 0.05% |
| BTC Weekly Futures | -0.01% (rebate) | 0.05% |
| ETH Futures/Perpetual | 0.00% | 0.05% |
| ETH/BTC Options | 0.03% of underlying; 0.0003 BTC/ETH for each options contract | Same as maker |
*Options fees are never more than 12.5% of the price of the options.
You also face additional fees for the delivery of options and futures. Daily options and weekly futures do not incur a delivery fee.
| | |
| --- | --- |
| BTC Weekly Futures | No fee |
| Futures | 0.03% |
| Daily options | No Fee |
| Options | 0.015% (never more than 12.5% higher than the value of the option) |
You will also have to pay a fee for liquidations. These fees automatically increase a set percentage based on the size of the underlying contract. This fee automatically goes to the insurance fund.
BTC Perpetual & Futures
0.5%, (0.45% taker and 0.5% maker goes to insurance fund)
ETH Perpetual & Futures
0.9% (0.85% taker and 0.9% maker for insurance fund)
Options
0.19% of underlying asset/0.0019 BTC for each options contract (0.0016 BTC or 0.16% of asset goes to insurance fund)
And finally, you will not get charged a fee for deposits, but you may face a withdrawal fee, depending on the Bitcoin network condition. Withdrawals can occur instantly if there's enough balance in the hot wallet.
Deribit does state that they keep a small percentage of coins in this storage, so your withdrawal may not occur immediately. They replenish the balance daily (if needed) with coins from cold storage.
Funding Your Account
To fund your Deribit account, you must use Bitcoins (BTC). Depositing funds requires navigating to the Account menu, then to Deposit in the top right-hand corner. Here, you will see your BTC deposit address, which you'll need to transfer your coins.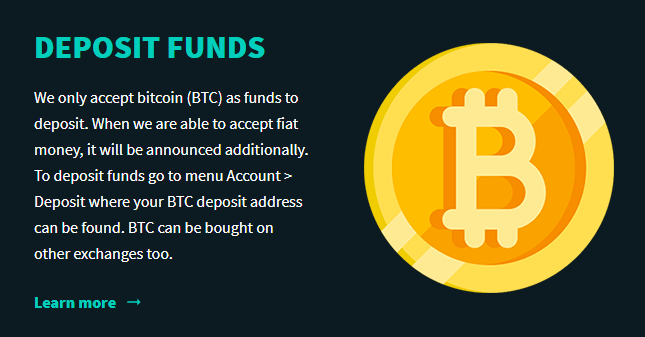 You can purchase bitcoins using regular currency such as EUR or USD at a cryptocurrency exchange like Bitstamp.net or Kraken.com.
After your first transfer, you will have to confirm your account before you're allowed to trade. To confirm your account, check your email and click the embedded link.
Withdrawing Funds
You can access the Withdrawal prompt from your Account page. Once you're on the correct page, you have to enter your bitcoin wallet address and your desired withdrawal amount.
You're also given priority options, which affect the fee you pay to withdraw your money. The higher priority of your claim, the higher your withdrawal fee. You can choose from:
Choosing a Trade Type
You can also use your account page to set up the terms for your trade type. You'll see the options listed along the left of the dashboard. Other features will show in the center.
Deribit's futures contracts are standard with monthly expirations. The price index comes from various top exchanges, including Kraken, Bitstamp, GDAX, and Gemini. These contracts cost $10 apiece and allow you to choose Market, Stop Market, Stop Limit, or Limit.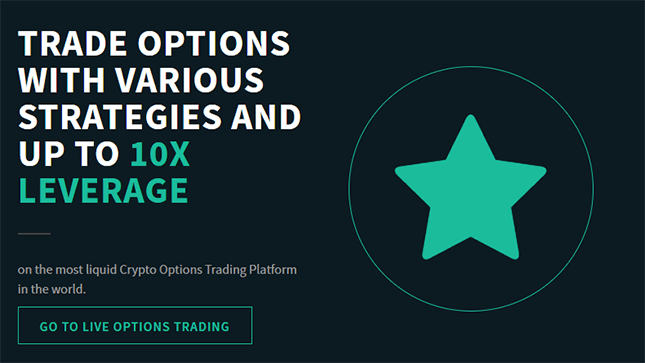 Deribit uses European-style options that must expire before executing them, which is different from how the US operates. You can find this section under BTC options along the upper left side.
You have two option types – put or call. Put options give you the right to sell at the set strike price once the option expires. When you choose to call, you set the right to buy the asset at the strike price once it expires.
Customer Support
Contacting customer support can be done in a number of ways. If you navigate to the Contact Us page, you get a list of departments, what topics they handle, and the appropriate email address.
| | |
| --- | --- |
| General Support – support@deribit.com | Technical/API Support – dev@deribit.com |
| Investor Relations – ir@deribit.com | Business and Press – info@deribit.com |
| Feedback – feedback@deribit.com | |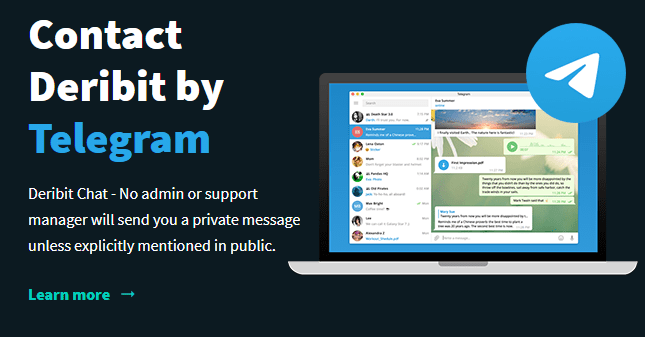 You can also contact Deribit by Telegram. The company does warn you against scams that occur through Telegram. According to the site, they will never initiate a direct or private message with a user. If you receive a private message or Telegram chat from Deribit, it will be a scam – report and block.
Another option is to contact them through their Twitter – @DeribitExchange. There is no option to contact them through a phone call.
Other helpful resources include a YouTube channel with multiple explanatory videos, an ongoing blog, and three detailed FAQ sections covering General, Futures, and Options.
Deribit Licenses/Regulation
Deribit is currently an unregulated broker, primarily because Europe has not yet declared cryptocurrencies as financial instruments.
Final Thoughts
Deribit is an Amsterdam-based Bitcoin trading exchange that claims to hold 10% of the global cryptocurrency derivatives market, making it the most transparent, fastest-growing cryptocurrency exchange. Available to users in over 100 countries, not including the US, Deribit is the perfect site to use for bitcoin futures and options.
Risk Warning: CFDs are complex instruments and come with a high risk of losing money rapidly due to leverage. 79% of retail investor accounts lose money when trading CFDs with this provider. You should consider whether you understand how CFDs work and whether you can afford to take the high risk of losing your money.