There are a lot of things that I like about Yes Option. I'll go through some of the features that appeal to me most.
Offers Several Trading Options
I prefer online brokers that give me a wider range of trading options. A lot of them seem to focus on specific aspects of the market. They might offer commodities, but they don't do stocks or currencies.
One of the reasons I prefer using Yes Option is that the company lets me trade in:
Having that many options is a significant draw to me.
This might not matter much to you if you would rather master one skill. For me, that gets boring. I like to constantly push myself to learn new things. So, once I started making significant money from commodities, I began to learn a bit about currencies. That's where I am right now. I'm looking forward to diving into the stocks and indices soon.
Three Account Levels
Yes Option currently has three types of accounts to meet the needs of its traders. The type of account that you get is primarily determined by how much money you deposit into your account.


I started with a Standard account. Today, I use a Gold account. As your skills improve, you can feel free to move up by adding more money to your account. I'm not yet prepared for a Platinum account, but I certainly have my eye on it. Maybe in a couple years I'll be good enough to put that much money in my account.
I'll give you a brief explanation of each account type to help you decide which option sounds best for you.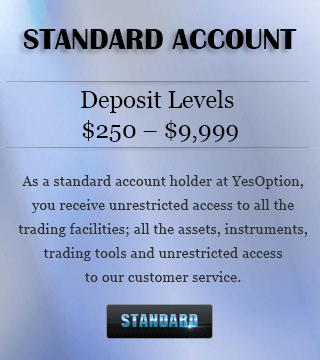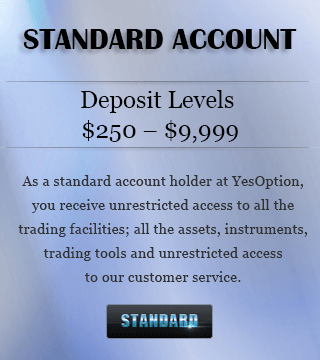 Standard Account
You will get a standard account by depositing $250 to $9,999 in your account. This account level gives you access to basic trading, educational, and customer services.
While this is the most basic account option, it still gives you plenty of features. You can access all of Yes Option's trading facilities, including training tutorials and trading instruments. You even get a free lesson from one of Yes Option's personal coaches. That will help you understand binary trading quickly.
Gold Account
If you can deposit between $10,000 and $24,999, then you can start a Yes Option Gold account. With the Gold account, you get everything that's included with the Standard account. In addition, you get: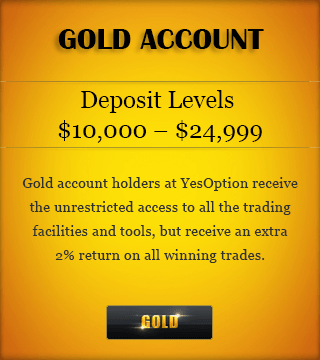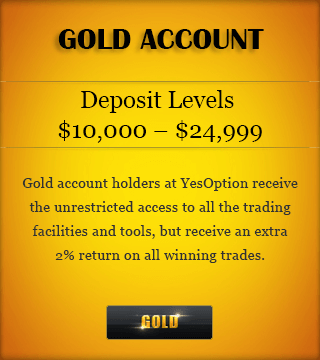 An extra 2% back on your winning trades

Two free sessions per month with a Yes Option personal coach

Two weeks of free high quality signals
I find that the personal coaching is what makes the biggest difference between the Standard and Gold accounts. Being about to talk to a professional two times a month is a really good way to learn about strategies that most people never even think about.
I have seen my earnings go up considerable since I started my Gold account. At first, I was a little wary of putting so much money in the account. Since I had already made considerable profits from my Standard account, though, I figured I would take a shot. I am glad I did. There is nothing better than personal coaching from a pro.
Platinum Account
The Platinum account is what I dream of. If I can keep making money the way I have been lately, I should qualify for the count within a few months. Of course, one really bad trade could set me back a few weeks. I have my fingers crossed and I'm taking my time to make sure I only place trades that have good chances of winning.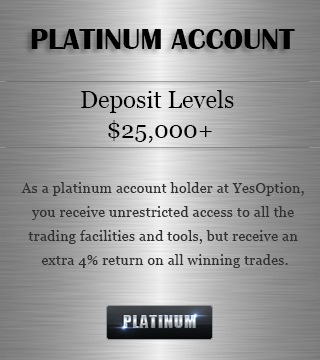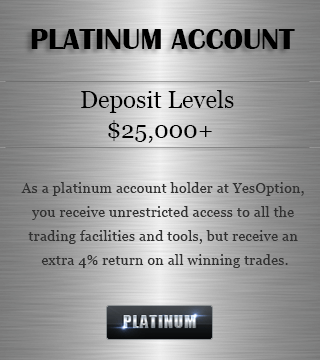 You will need to deposit $25,000 or more to get a Platinum account. That's a lot of money for me, but I'm sure there are some people out there who don't think $25,000 is that much money. If you are one of those people, more power to you. You might want to take the plunge and open your Platinum account right from the beginning.
By doing that, you will get:
An extra 4% on every winning trade

Unlimited free withdrawals
​
Unlimited access to a professional coach
My plan is to just keep every dollar in my account until it reaches $25,000. At that point, I'll take advantage of the free withdrawals. As long as I can keep the account funded at $25,000, I can keep all of these excellent benefits while still withdrawing money so I can spend it.
Yes Option Prices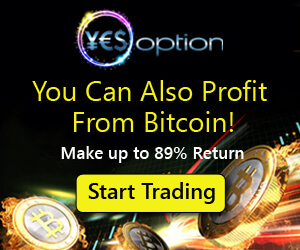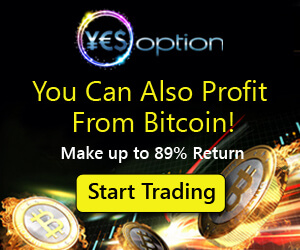 It doesn't cost anything to use Yes Option. The company gets paid when someone makes a bad call. So, if you place an investment that doesn't work in your favor, Yes Option gets the money.
I have seen a few online brokers who demand a portion of your earnings. Yes Option doesn't do that. I probably wouldn't use them if they did. After all, binary traders already get paid enough from people making bad calls. Why should they take a cut of my earnings when I make a good call?
That would be like winning a bunch of money at the casino, only to learn that the casino is keeping a big chunk of it. You'd be outraged, right? That's how I feel about online brokers who take commissions from client earnings.
Criticism of Yes Option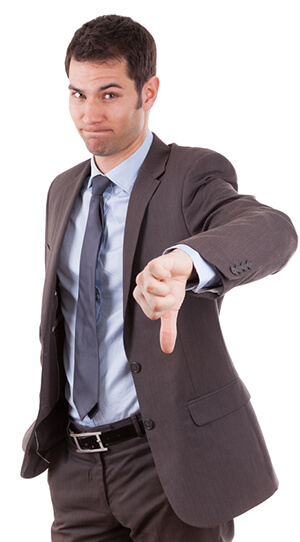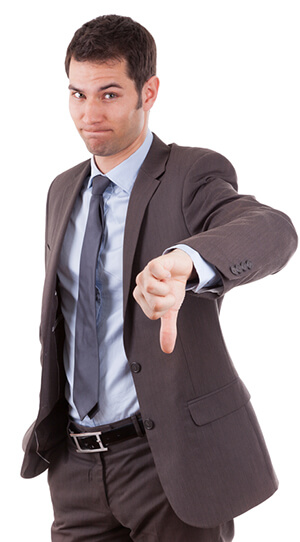 I don't have any criticisms of Yes Option. It has worked very well for me, so there is nothing to complain about. Before I opened my account, though, I did some research to make sure the company was legit. You can never be too careful. Always spend some time researching binary options brokers. There are plenty of scams out there that you do not want to get involved in.
Since you're reading this review, I assume that you're smart enough to know that research is important.
While reading about Yes Option, you will probably run into complaints that the company isn't regulated by CySEC. CySEC is the security exchange commission operated in Cyprus. A lot of online brokers are regulated by CySEC.
I ultimately decided that this didn't matter. I understand that it might give you pause, but think about it this way: a lot of online brokers who are regulated by CySEC have been busted running scams on people.
If that's how effective the organization is, why should I care whether my broker is a member? It doesn't seem to do much good.
Besides, I saw a lot of reviews from actual traders saying that they were happy with the services they got from Yes Option. That was a lot more important to me than CySEC's regulation.
Yes Option Customer Support
The only time I've ever had to contact customer support was when I wanted to upgrade from a Standard to a Gold account. The person who handled my questions was professional. He gave me the information that I needed and helped me switch over to my new account.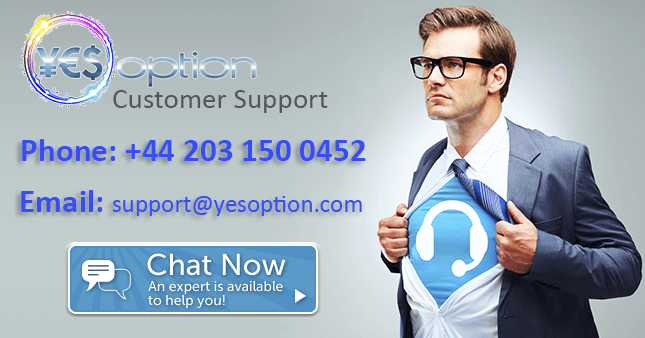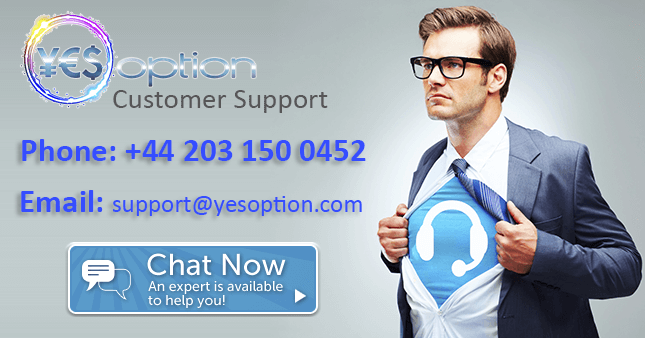 You can contact Yes Option customer support by phone or Live Chat. Visit the website to find the phone number for your region. That way, you won't have to pay any long distance charges.
FAQ About Yes Option
Q: Does Yes Option accept clients from the U.S.?
A: Technically, the United States does not let its citizens use Yes Option. Actually, the government doesn't let its citizens do a lot of things online even though the rest of the world has free access to them.
While people in the U.S. are not supposed to use binary trading, you can kind of get around these restrictions by using a virtual private network. I'm not a lawyer, so I'm definitely not give you legal advice. I'm just saying that a VPN makes it possible to use Yes Option. Should you? That's up to you.
Q: How many assets are traded on Yes Option?
A: There are currently over 125 assets to trade on Yes Option. That diversity is one of the things that attracted me to the company.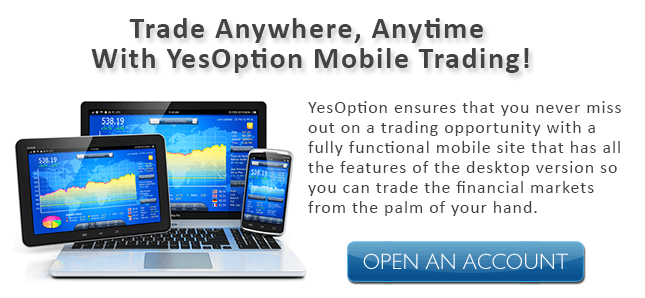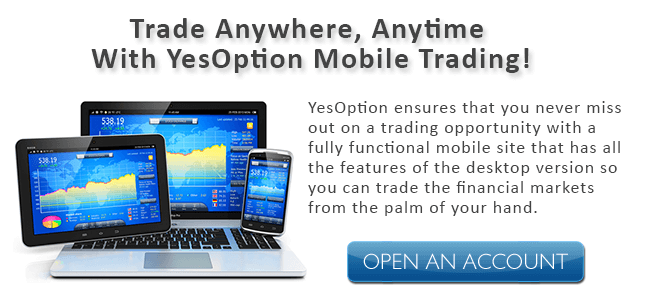 Pros of Using Yes Option

Cons of Using Yes Option

Strong returns

Good client support

Intuitive trading platform

Excellent educational resources
​
Diverse trading options
My experience with Yes Option has been positive. When I first started, I didn't know much about binary trading. Yes Option's education center gave me the tools I needed to improve my skills. After reading the articles and watching the videos, I saw my skills improve quickly. There is a learning curve. How quickly you pick up the skills you need depends on your talent and commitment. I recommend visiting Yes Option's website and taking a look around to help you decide whether it is the right online broker for you. In my case, it was the best option.