Table of contents
InstaForex is a Russian company that has been providing trading services for the forex market since 2007. InstaForex broker and their website instaforex.com are part of the InstaForex Companies Group. The group is made up of investment and financial companies that provide trading services. InstaForex utilizes the Electronic Communications Network (ECN), which ensures the mutual clearing of orders when they are executed by clients.
Top Features of InstaForex
InstaForex currently has over half a million corporate and individual customers. And, every day 400 new traders open accounts with InstaForex. Regardless of their capital, a comprehensive range of instant technical support, consulting services, and trading options are available to all customers. Their goal is to provide a full range of services from signing up for a new account to withdrawing money.
InstaForex has more than 250 representative offices worldwide with a majority situated in Asia, where they have shown the most success. World Finance Media has awarded them Best Broker in Asia three years running. They have also received accolades from European CEO and CNBC Business Magazine.
Top Features of InstaForex
InstaForex's interface can be a bit overwhelming at first. The web layout is a bit crowded and busy; there is a large array of buttons, menu options, and widgets. Fortunately, there are many written guides and forms on the website to help walk you through the process. Once you start to get the hang of the interface, the investment and trading tools are superb.
InstaForex offers all of its clients a downloadable trading platform known as InstaTrader. This is where most of your trading activity takes place. There is also a third party account management service called PAMM. Another advanced account function is copy trading. InstaForex offers access to over 100 currency pairs as well as several other trading instruments such as
Currency options
US Stocks (on the New York Stock Exchange)
Commodity futures
Metals
CFDs
To help beginners, InstaForex offers practice accounts. But, in order to begin any sort of trading, real or practice, users must first download InstaTrader, which is a variant of Meta Trader 4. This application comes preconfigured to make it simple to trade with InstaForex, and it is readily available on their website. All you need to do is link up your InstaForex account using the Meta Trader secure login. Also, on the download page of the site, there are mobile, tablet, and desktop versions of the trader.
The admin interface on the website is primarily meant for news, deposits and withdrawals, company information, viewing trading history, and other account management tasks. Currency option trading is also done through the website. The other instruments – metals, stocks, spot currencies – are done through the InstaTrader program.
InstaForex has its own copy trading system called ForexCopy. Since there is a separate legal contract, you must register separately to gain access to ForexCopy. Once you do this, you have the option of being a copier, a follower, or both. From the admin interface, you can choose the trader monitor list. From there, you can pick which traders to copy or manage the ones you are already copying. Also, within the copy management area, you can see trader performance metrics and other comparison figures.


InstaForex's third party management system is known as PAMM, for percent allocation management module. Using PAMM, you are able to allocate a portion of your funds to any PAMM registered traders, who will help you manage you funds. This differs from copy trading because the trades happen within your account. The trader is given discretionary mandate for the funds and can invest according to the prescribed trading strategy.
The PAMM trader's money is traded alongside your money, so he has a vested interest in your success. This makes it simple for professional asset managers further diversify large portfolios. The traders participating on PAMM, their fees, and their performance statistics are available in the admin interface. Unfortunately, PAMM and copy trader cannot be used in the same account.
InstaForex Start-Up Bonus
InstaForex offers the best bonus for new clients. You can receive a $1500 Startup No Deposit Bonus, available to all new InstaForex Customers. The new Startup Bonus with no deposit from InstaForex is an exciting opportunity to start Forex live trading.
Dates: 31 December 2018
Available to: All new clients
Bonus: 1500USD Startup No Deposit Bonus
How to get: Register a real account and complete the verification procedure. Then apply for this $1500 bonus
Withdrawal: Yes, after the profit becomes more than 10% of the amount, all the trades are closed, and the bonus is taken.
InstaForex Prices/Spreads
The trading account type you choose with InstaForex will determine your dealing costs. With the InstaForex Standard Account, you get fixed spreads. This is the best account for most account sizes and traders. With the Standard Account, you can trade standard, mini, or micro lot sizes and the fixed spreads are between three and seven pips.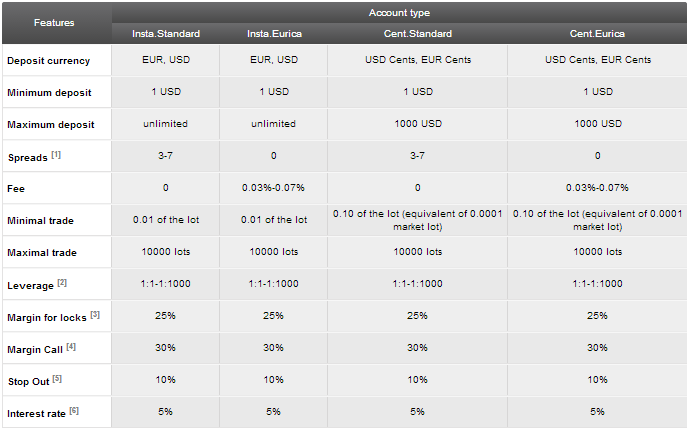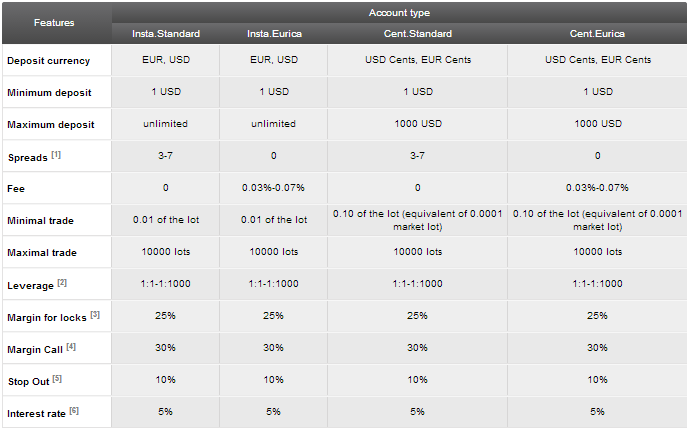 Your other choice is a Eurica account. With this account, you are working on a zero spread basis. Dealing commissions run at about .03 percent to .07 percent and are applied per trade. Since beginners typically prefer simple trading without having to figure out spreads, InstaForex recommend Eurica accounts for them. For us, it is harder to trade with commissions than with spreads. We went with the Standard account.
Both accounts have the same minimum deposit ($10), leverage (up to 1:1000), and margin calls. There is also a wide range of ways in which you can submit payment, including credit cards, PayPal, AlertPay, Qiwi, wire transfer, RBKMoney, Pecunix, MoneyBookers, and WebMoney.
The Downsides of Using InstaForex
We were a little bit overwhelmed when we first started using InstaForex. There are just so many different options to choose from and ways to trade. They really pack a lot of information into their interface and on to InstaTrader. After using it for a while, though, it started to become second nature to us. This was basically the only downside we found.


We did a thorough search of discussions boards that specialize in forex trading. For the most part, the comments were positive. There were a few disgruntled former traders who had used Liberty Reserve as their payment source. Liberty Reserve was under investigation for money laundering and this caused problem with those accounts. This was more of a Liberty Reserve issue than an InstaForex issue though.
InstaForex Customer Support
InstaForex has a team of specialists on hand who are professionals in legal support, operations, and financial consulting. They also continue to hire the top specialists in the industry who have experience with online trading service providers. That said, they have 24 hours a day, seven days per week support available on a variety of platforms: email, Skype, phone, and live chat. There are also tutorials and documentation to help you out.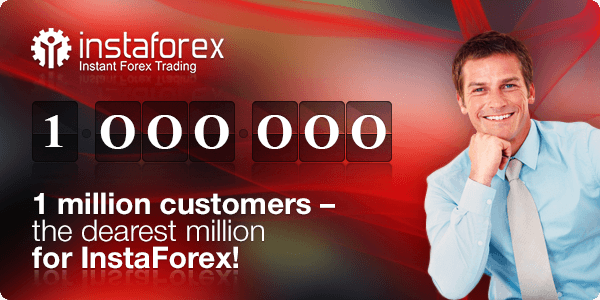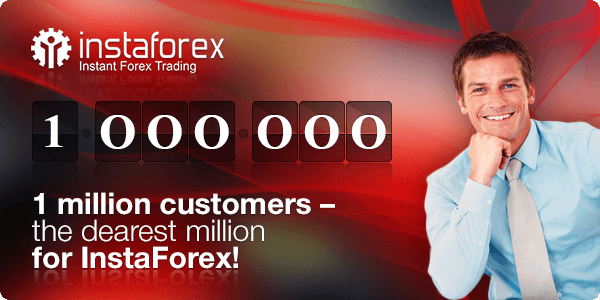 We called the technical support department a few times, and each time we were greeted by a helpful and friendly representative, who made sure we were completely satisfied with her answers before letting us off the phone.
Conclusion
InstaForex is one of the top forex brokers in the industry. It is easy to see why they have 1,000,000 clients. From our experience with them, you would be hard pressed to find a better online forex trading provider. We strongly recommend using this service if you are an experience forex trader or if you are just interested in breaking into the game. InstaForex wants their customers to succeed, and they make it easy for them to do so by providing useful tools.