Trader's Way works with its clients to give them the most comprehensive set of opportunities possible in foreign exchange financial markets, cryptocurrencies, and other types of high-risk trading. They may work with you regardless of your experience or how much you can put into your initial deposit.
They sound perfect in a lot of ways. But is Trader's Way really all that?
History of Trader's Way
Trader's Way is a global brokerage firm founded in 2011, with its headquarters in the Commonwealth of Dominica. In that time, they've collected what they call the best services, products, and technologies to ensure their traders have everything they need for the specific trading in which they want to engage.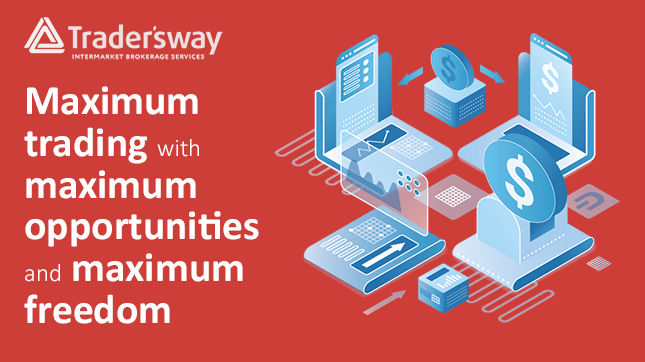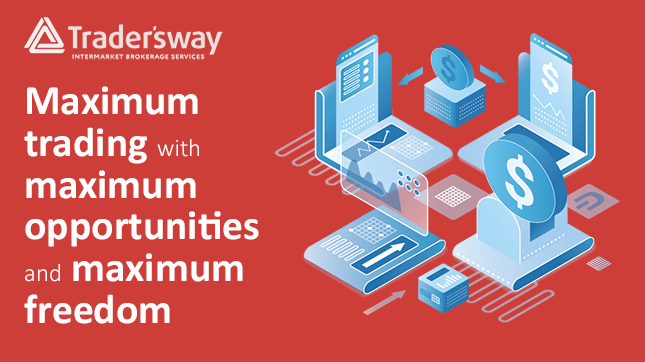 Over the past 11 years, Trader's Way has worked to provide retail investors with Forex trading and trading in share deals, CFDs, and more. Today, more than 10,000 investors work with Trader's Way.
The group of financial professionals behind Trader's Way made it their mission to spread free and limitless trading worldwide. They believe in bringing all their clients the maximum trading opportunities available with the maximum trading allowed to ensure each client's ultimate freedom.
Top Features of Trader's Way
Trader's Way has several great features, including:
Initial deposits of $10 or less

No experience necessary

High leverage ratios

Several methods for customer service

Demo accounts
Trader's Way's high leverage ratio is as much as 1000:1 on some of their account types and up to 500:1 on others.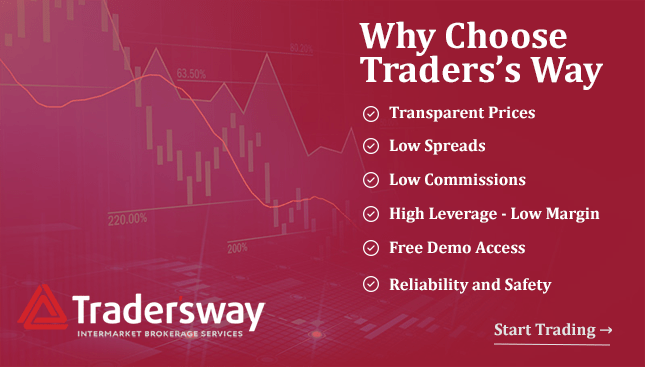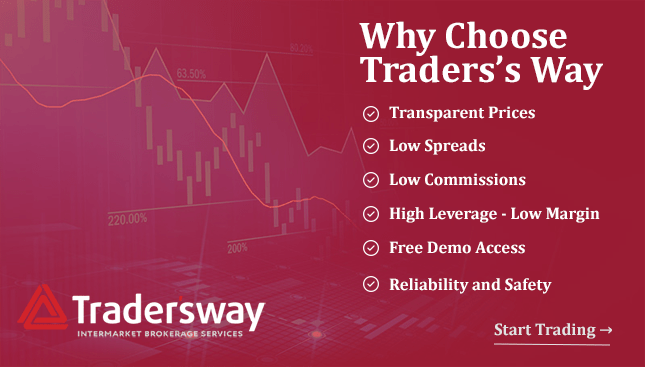 That means there's a solid chance you can make a lot more than you ordinarily would because you can borrow up to 1,000 times the amount of your deposit to make bigger trades. If you're looking to leverage a lot of money, Trader's Way allows you to do that.
If you're not sure you want to commit to Trader's Way, you can sign up for a demo account to learn the platform. You start with $100,000 of virtual money that allows you to get a feel for how things work without any risk.
Aside from the fact that you're not trading real money, Trader's Way's demo accounts are no different than their active trading accounts. You get the chance to learn the ropes, experiment with trades and with advisers, and more, without a commitment and with no charge.
These demo accounts are especially important if you're a beginner. You don't want to risk any money until you have an idea of what you're doing.
Costs and Commissions at Trader's Way
Despite all its features, using Trader's Way isn't free, but trading rarely is. Their MetaTrader 4 VAR account does not charge commissions on Standard accounts. However, they do charge commissions on their other accounts, including MetaTrader 5 accounts.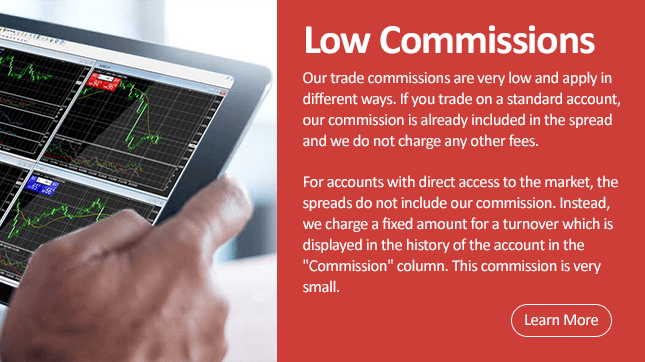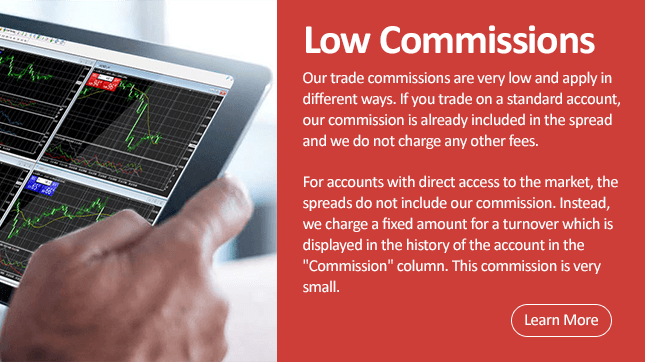 Commissions are $3.00 per $100,000 in turnover. These commissions are true for all their trades, including commodities and Forex trading.
Their wire fee structure is a bit more complicated because you choose how to pay those fees. One choice you can make is paying all the transfer fees yourself. You can also pay only your bank's outgoing fees. You'll find several different options for how to pay different fees.
Under their Beneficiary structure, you don't pay any transfer charges at all. Trader's Way receives payments minus all charges. To know what kind of fees you have to pay and your options for paying them, you need to read and follow your orders' instructions. Some options aren't available with certain orders.
Customer Service and Support
Trader's Way doesn't have a regular office where you can make an appointment with your broker or adviser and go in to speak with them.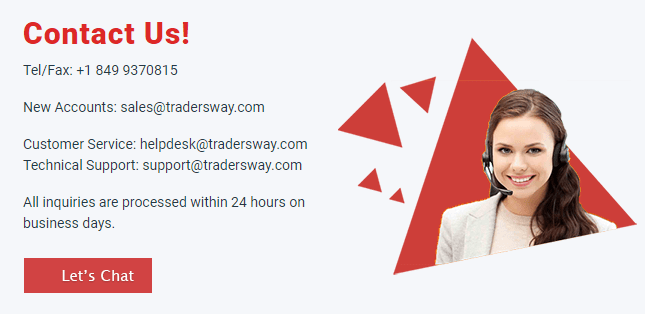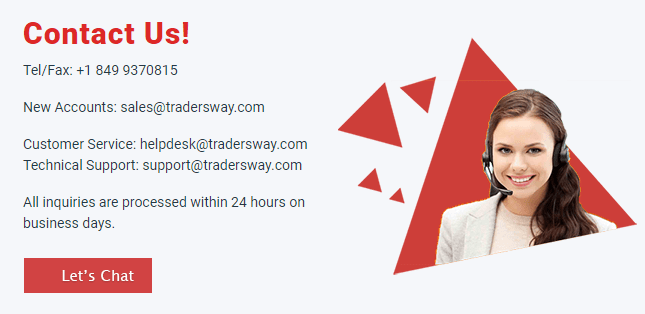 However, they do have extensive electronic methods for customer support. They have two separate email help desks: Their standard customer service is at helpdesk@tradersway.com, and their tech support is at support@tradersway.com. They say they'll respond to your inquiries within 24 hours.
They also offer online chats on every page of their website. You can generally reach someone without much of a wait that way.
Finally, you can call them at 1-849-937-0815. Their customer service representatives are knowledgeable and friendly, and they tend to have low wait times over the phone.
Trader's Way Regulations
Because they operate out of Dominica, Trader's Way is largely unregulated. Many traders will see that as a plus because it means freer trading and bigger returns.
The lack of regulation, though, makes working with them risky despite their promises of safety. While you can contact the East Caribbean Securities Regulatory Commission, if you have what you believe is a legal problem, you don't have anywhere else to go no matter where you are.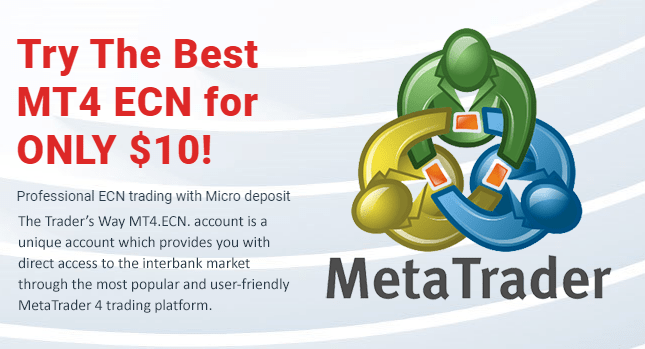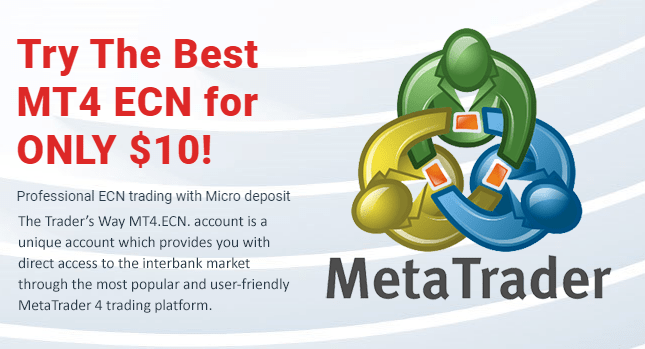 They're not entirely unregulated, though. Their cTrader platform uses the ECN model, which means that their brokers must connect their platform to at least one liquidity provider. cTrader also doesn't let Trader's Way's brokers play around with their software, meaning traders can rest assured that all the price feeds come directly from a liquidity provider.
Also, their clients' funds are separate from operational funds. Should a business failure occur, clients can reclaim their deposits.
Final Thoughts
Anyone can work with Trader's Way, even beginners. They have an extensive network of brokers and advisers that will work with you no matter your experience level. They're also mostly unregulated, which means you have a lot of freedom with your trading that you won't get with more traditional brokerage firms.
Also, if you need or want a high leverage ratio, you'll get it with Trader's Way. On some accounts, you can get a ratio of up to 1000:1, while on others, you can get up to 500:1. Even better, you can open a demo account before committing money to an actual account.
Trader's Way does have its problems, and its lack of regulation is a double-edged sword. However, they offer so much, including in the way of assistance, that you should consider giving them a good look
Risk Warning: CFDs are complex instruments and come with a high risk of losing money rapidly due to leverage. 79% of retail investor accounts lose money when trading CFDs with this provider. You should consider whether you understand how CFDs work and whether you can afford to take the high risk of losing your money.