Axi is a fully licensed broker that is regulated by the Australian Securities and Investments Commission (ASIC), the Financial Conduct Authority (FCA), and the Dubai Financial Services Authority (DFSA). Axi also charges low fees, making it one of the most affordable brokers as well.
Top Features of Axi.com
Axi is a MetaTrader 4 forex broker. It doesn't have the widest range of markets, but it has a decent one. Its focus is forex trading, but it offers other instruments for CFD trading, including cryptocurrency, hard and soft commodities, and indices. Axi provides users with a variety of charts and trading tools that are easy to use. The platform is adequate for both new and more experienced traders.
More experienced traders, however, might find that it is to their advantage to pay a little extra for Axi to get their MT4 Next Generation enhancements. These include additional features such as a sentiment indicator to help you understand trends and live market insights. They also include an economic calendar, currency market news feeds, and a correlation trader that picks up on correlations on markets and reduces the risk of costly money management errors.
Axi is available on the web, desktop, and mobile platforms. The web trading platform offers a nice amount of customization. Axi is slightly inconvenient concerning alerts and notifications because the only way to set them up is on the desktop trading platform.
Axi offers two types of accounts an MT4 Standard account and an MT4 Pro account. Neither account has a setup fee, and neither account type requires a specified minimum deposit. If you are a beginner, a standard account will be enough for you. It has a wider spread than the pro account but charges no commission fees. A pro account is better suited for more experienced forex traders; it has a lower spread, but it does charge a seven-dollar commission fee.
The broker also offers a free 30-day demo account, so you can try the platform out before you invest money into it and see if you like the platform design and if it offers the features you need.
Axi offers easy access to your portfolio and fee reports so you can quickly find information about the commissions you have paid and what profit/loss balance you've incurred. In terms of order types, Axi's offerings are basic, including:
Leverage
It's important to mention that your regional location will determine the amount of leverage Axi offers. The UK and Europe have more restrictions, and Axi offers leverage of 30:1 for major currency pairs and 20:1 for minor currency pairs in the UK and Europe. Outside of the UK and Europe, Axi offers leverage of 400:1. While this leverage may not be adequate for expert traders, beginning and intermediate traders should find it suitable for their needs.
​
Charges and Costs
In terms of fees, Axi tends to come out in the low to average range. The forex fees are similar to the forex fees of its competitors. Axi CFD fees are a little lower than its competitors. Axi doesn't charge fees for
Axi charges no commissions for standard accounts and seven dollars round-trip commission for pro accounts. They also charge conversion fees if you fund your account with a currency different from your bank account or if you trade assets in a different currency from your account base currency.
Criticisms of Axi
One of the biggest criticisms I have of Axi is that it does things a little slower than its competitors. When you open an account, for example, it takes two business days to be approved. Likewise, it also takes about two business days for a bank-transfer withdrawal to go through. It can also take several days for a bank transfer to go through when you're depositing funds into your account. You can make deposits instantly with a credit/debit card or an electronic wallet.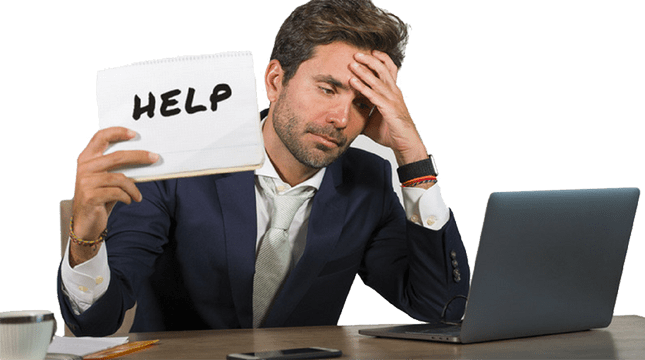 Axi also has limited withdrawal options. While you can make deposits with a credit/ debit card, you can't make withdrawals the same way you're only able to make withdrawals directly to your bank account. You also have to use the same electronic wallet for deposits and withdrawals if you use an electronic wallet.
There are some other criticisms I have about Axi, including the fact that it only has a one-step authentication login making it less secure than other brokers. It also has limited risk management because there are no guaranteed stops, and investor protection is minimal. It only offers negative balance protection for retail customers in the EU and no protection for its professional customers. If you are new to investing and are concerned about protecting your investments, the limited protection Axi offers is a point of concern.
Customer Service
Axi has outstanding customer service support. Customer service is provided in 14-different languages to assist customers. You can get help via live chat, phone, or email, and you're pretty much guaranteed to get relevant answers no matter which option you choose. Axi email customer service does have a little longer response time, so if you have an issue that needs immediate attention, you're better off using live chat or calling.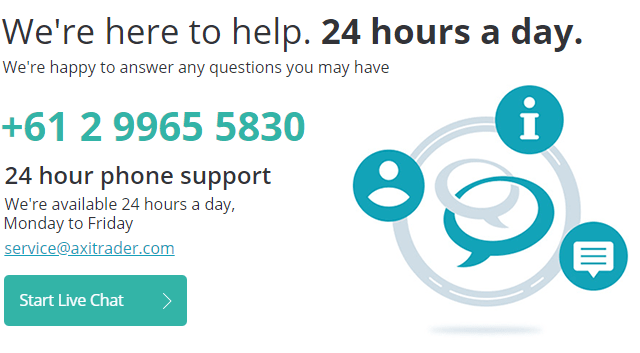 Live chat will give you the fastest response, but to their credit, even their phone support won't leave you on hold for hours, so if you'd prefer to speak directly to them, you can rest assured that they will be respectful of your time. Customer service is 24 hours, but keep in mind its 24 hours only five days a week, so if the currency markets are closed, they are too.
Axi provides an account manager for every trader that opens an account with them. The broker has won multiple rewards for their customer service.
Axi Resources
Axi is more than just a trading platform; it is also an educational and research platform. The platform offers useful charting tools and allows you to make use of 31 different indicators. It also gives you access to an excellent economic calendar that you can filter depending on country and trade categories.
On their website, they also have a section for market analysis, including a blog maintained by their in-house analyst team. The blog is updated daily, and if you pay for the MT4 NexGen package, you also get news headlines streamed from Dow Jones Newswires.
​
In terms of educational resources, Axi gives you access to a lot of information at no charge. As an account holder, you can watch videos that will help you learn the ins and outs of using the platform, effectively saving you a lot of time with trial and error.
It also has general educational videos to help you learn about a variety of topics, everything from forex trading to trading psychology. While I would not recommend the educational videos as your only source for educating yourself about trades and trends, it certainly is a useful source of information.
If you prefer to read rather than watch videos, you can choose from an impressive collection of downloadable ebooks, Axi. The ebooks are free to download, and there are no limits on how many you can download. Besides the market analysis articles featured, they also have pieces that are purely educational as well.
Axi is a reliable broker, and it's also highly affordable. They don't hit you with a lot of fees, they offer low spreads, and they don't require a minimum deposit. Axi also offers you peace of mind because many authorities around the world regulate them. They also pride themselves on their customer service, which is also a nice thing.
If you are looking for a broad product range, Axi is probably not the best fit because its focus is on forex trading markets with limited instruments for CFD trading. However, if you want to focus your investing specifically in forex trading, Axi is definitely one of the best platforms available.
If you choose to use Axi, be prepared to be a little patient when it comes to processing deposits and withdrawals. Also, make sure you're comfortable with the fact that you have very limited protection on your investments. Of course, if we're going to be realistic, all trading has its risks, and you should never invest more than you can afford to lose anyway.
All things considered, Axi is a solid choice for forex trading. It is an easy to use platform with a lot of helpful features. It has some great educational materials for investors, and if you have a problem, you can get the help you need when you need it. I highly recommend Axi for beginners and intermediate traders. The platform is not overdone, but it gives you what you need for successful trading.