History of Bybit
Bybit.com is a crypto exchange platform from Singapore. Its establishment was in March 2018 and is currently one of the fastest-growing crypto exchanges for users today.
The founders and the Bybit team pride themselves as professionals and intuitive groups who guide themselves on customer-centered values. Their expertise ranges from foreign exchange and cryptocurrency knowledge to experience as some of the first blockchain adaptors. The platform aims to create a fair and efficient trading experience for the user base.
Together, the team has turned Bybit into a reputable cryptocurrency exchange. Even as a young platform, Bybit currently hosts over a million users. These users enjoy transparent peer-to-peer transactions with their digital assets.
Bybit is a crypto-only exchange. They do not allow the exchange of fiat currencies. Although based in Singapore, Bybit's interface is available in several languages. These include English, Russian, Korean, Japanese, and simplified or fluent Chinese. The exchange is not open in the US, Syria, or in Quebec, Canada.
Top Features
The top features of Bybit can give it an edge over some of the other established crypto exchanges. As a young exchange, users will find that their platform might have some limitations, but users are happy with what Bybit currently offers. Some of these services include innovative methods and models for crypto exchange.
Trading Platform
Any long-standing exchange must have a trading platform that keeps up with other exchanges. Bybit offers users an organized and intuitively designed platform for trading. It provides a standard interface with necessary graphs and features for traders to track asset and market performance.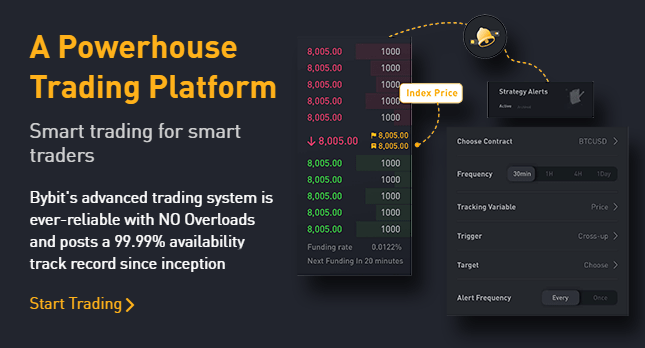 One of the best things about Bybit's interface is that it is customizable. Traders can organize the locations of modules and place them where they want to see them. They can resize and move them around to different positions based on preferences.
Customization makes traders more comfortable when using the interface. Designing layouts can help traders understand and strategize within the platform.
Bybit is available for use for desktops and mobile devices. Mobile versions of Bybit are available for all tablets, androids, and macOS devices.
"Maker-Taker" Model
Bybit operates under the "maker-taker" model. This model applies to how the site conducts crypto exchange transactions between traders. This model essentially means Bybit charges traders a fee if they take liquidity away from the market as "takers," and they will provide a rebate to traders who create liquidity or who are "makers.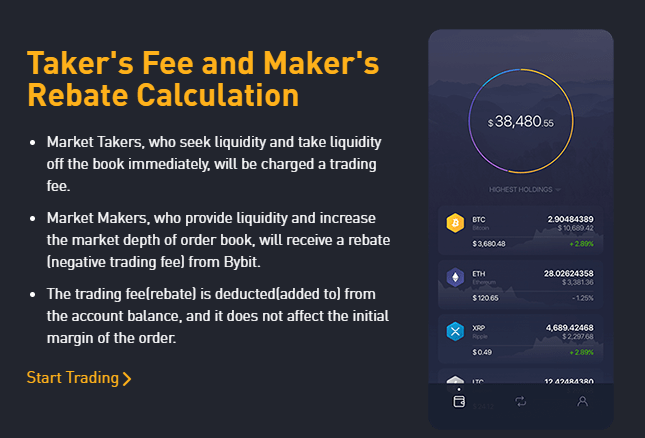 Another way to think about this is if a trader makes an immediate exchange order for a cryptocurrency at a specific price, they pay for the assets' purchase. Their transaction takes away the liquidity, and they become a taker. Traders who can make assets available to the market for transactions create liquidity. In transactions, these makers get a rebate for increasing liquidation.
Bybit is not the only exchange that uses the maker-taker model. Bybit is a professional platform for newer crypto traders where they can learn and develop crypto exchange skills.
Leverage
As a leveraged exchange, Bybit allows crypto margin traders. When putting up currency on the platform for exchange, traders only have to put up a small position as collateral for the trades they will do.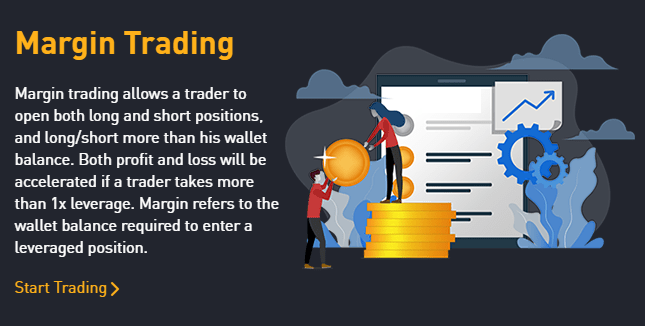 So if the margin is 1%, and the contract of 10BTC is $36,000, a trader has to put up $360 for the margin. This leverage is adjustable, so traders can change the value of it even after taking their position. Adjustability like this isn't usually available on other exchanges, giving Bybit a unique edge.
Asset Exchange
The Asset Exchange feature allows traders to convert their cryptocurrencies into other cryptocurrencies for exchange.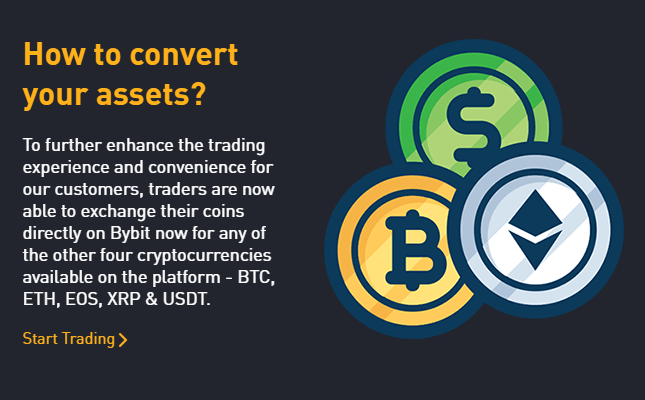 There are four cryptocurrencies that Bybit uses. Through the Asset Exchange, traders can capitalize on market price changes to exchange one coin for another. This is a new feature for Bybit users and allows them to exchange physical crypto holdings quickly.
Bybit charges a $5 fee for Asset Exchange transactions.
Deposits and Withdrawals
On Bybit, users cannot use fiat currency to fund their accounts. However, customers can exchange their physical money for Bitcoin on platforms like Kraken.
To participate in transactions for deposits or withdrawals, users need to generate a crypto wallet address. This wallet can be a hot wallet or a cold wallet. To create a wallet, users need to create an account, generate a wallet, and then use their wallet in a transaction.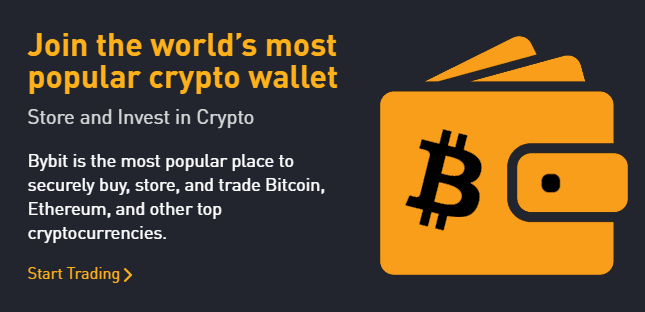 Wallets that hold cryptocurrencies are only active when they've been used in a transaction. The same is true for wallets users have for Bybit. Users can deposit into their wallets by selecting their wallet's Bitcoin or Ethereum address on their dashboard. With a wallet or address, a user can do transactions and withdrawals.
Bybit allows withdrawals three times a day. These times are 8:00 am, 4:00 pm, and 12:00 am in the UTC timezone. Bybit sets limits on all accounts, but these minimums and maximums allow larger and smaller withdrawals for all kinds of traders.
For Bitcoin, the minimum withdrawal is 0.002, and the maximum is 10. The second most popular cryptocurrency Ethereum has a 0.02 minimum and a maximum 200 maximum withdrawal. Ripple has a minimum of 20 and a maximum of 100,000. Finally, the last coin Bybit uses, Eos, has a minimum of 0.2 and a maximum of 10,000.
Security
The team at Bybit has equipped the exchange with several security measures to protect users and their assets on Bybit. Bybit uses a cold storage system, so most of their crypto reserves and digital client currencies are in offline wallets to protect them from hackers and phishers. Some of their coins are in online hot wallets for trading withdrawals.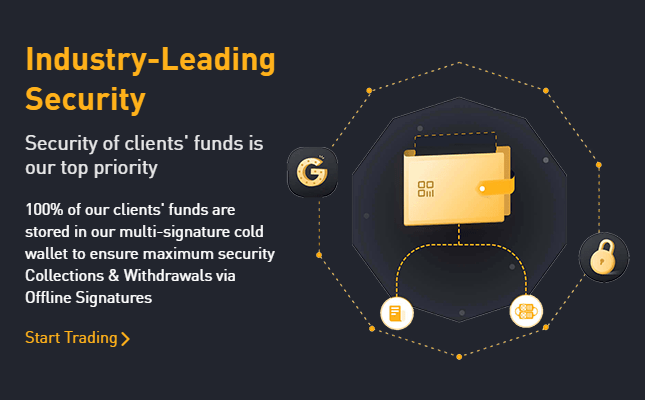 Sometimes, Bybit moves funds from cold storage into hot wallets. To do this, though, Bybit requires multi-sig or multiple signature transactions. These transactions need more than one authorized signature to move coins between wallets. Therefore, funds are safer even when they move from one location to another.
Bybit does not require a KYC process for its users since it is crypto-only. New customers can begin trading currencies with just their email addresses and a two-factor verification process. No KYC means that transactions occur anonymously on Bybit, so users are not required to disclose personal identification information.
Bybit Prices
The cost of using an exchange is an essential factor for traders to consider. Hidden and transactional fees all add up in the end and can affect whether using a platform is useful for a trader or not. Bybit offers a competitive rate for their transactions, along with some unique features that users enjoy.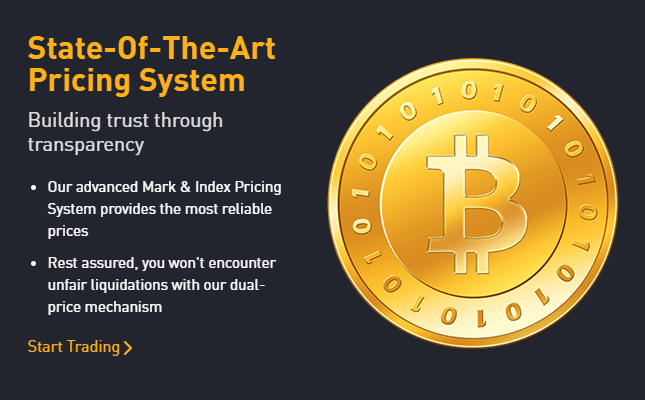 Unlike other exchange platforms, Bybit transaction fees occur directly between traders and not through Bybit. Since market conditions affect the funding and interest rates on Bybit, these prices will change daily.
The maker-taker model on Bybit means takers pay a specific percentage, and makers gain a rate per transaction. Bybit takers pay 0.0075% on their orders, and makers have -0.0025% rebate on their transactions. The negative percentage means that makers profit from their transactions for creating liquidation.
Bybit also doesn't charge for withdrawal or deposit fees. Users who withdraw coins at one of the designated times might pay a network fee because of blockchain mining, but this is usually a small price.
Customer Support
Bybit's customer support team has given the exchange a great name in customer service and satisfaction. Through an instant messaging outlet and a couple of email addresses, customers can reach out to Bybit for their concerns.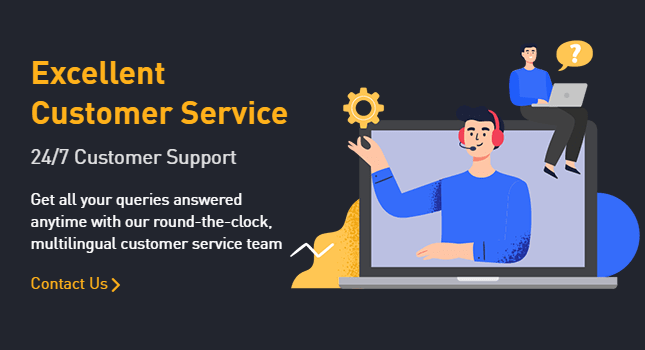 Through a feature called Zendesk Live, customers have a live chat function to ask questions or raise concerns right on the platform. Customer service is quick to respond through Zendesk.
Customer service is also reachable through email. Though this contact method can be slower, they are still responsive through email, and it allows customers to ask more detailed questions or explain longer concerns.
Possible Bybit Improvements
Since there are many other cryptocurrencies out there, one of Bybit's limitations is that traders can only exchange four of the over 1600 digital currencies. The platform's currencies are among the most popular cryptocurrencies, but there is room for growth in this area, so Bybit attracts more traders and a more versatile market.
While some traders will enjoy the convenience of not needing to undergo a KYC process for registration, anonymity can cause concerns later on. Since traders do not need to disclose personal information, fraudulent transactions or issues can be harder to trace since users must trace assets through public keys and not through identification.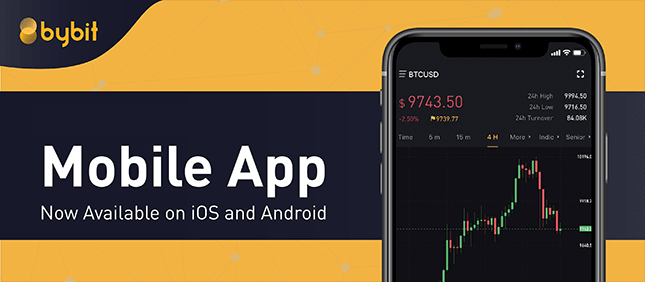 Final Thoughts
Bybit may be a younger platform, but its unique advantages make it a platform that new and veteran traders can use to develop larger cryptocurrency portfolios. The platform shows promise with its innovative and professional methods for trading crypto. As time goes on, users can count on the team at Bybit to innovate and further develop their user experience.
Risk Warning: CFDs are complex instruments and come with a high risk of losing money rapidly due to leverage. 79% of retail investor accounts lose money when trading CFDs with this provider. You should consider whether you understand how CFDs work and whether you can afford to take the high risk of losing your money.